We all know that a divorce can be incredibly tough. We also know that the kids should always come first. Yet, however obvious the rules of play may be, they are a hell of a lot more tricky to put into practice.
So it's a relief to learn that us mere mortals are not the only ones who find life with kids post-separation such a struggle. Boyhood actor, Ethan Hawke, is so on the same page that he's actually written a book to try to help navigate the choppy waters of co-parenting. Inspired by a book his wife, Ryan, was reading about how hard it is to be a stepparent, Rules for a Knight, is part self-help, part parenting book.
The actor, who has two teenagers—Maya, 17, and Levon, 13—with ex-wife, Uma Thurman, as well as younger daughters—Clementine, 7, and Indiana, 4—with current wife, Ryan Hawke, started the book as a Christmas present to his kids.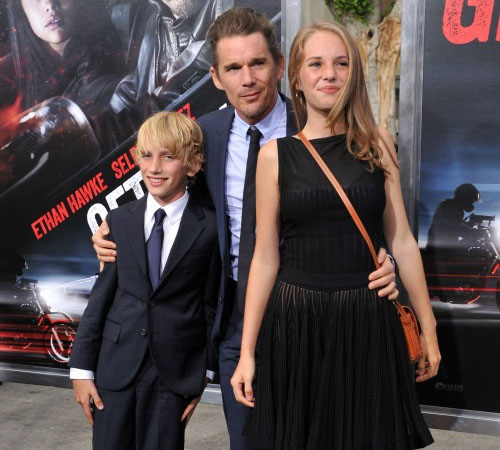 "One of the things that's really hard about parenting from a divorced standpoint, is that your kids can wreak havoc over you because there is a lot of, 'At Mommy's house we have ice cream all the time' and 'I don't think I'm going to come next weekend,'" Hawke said. "There are rules at school, rules at Grandma's house, rules at Mom's house, rules at Dad's house, nobody's bad or has the right rules, they are just rules. So [Ryan and I] got on this riff about rules."
Hawke admitted that while weekends with his kids are never dull, he sometimes misses out on teaching them the things he wants to because he doesn't get to spend as much time with them as he would like.
"I never got to talk to them about these things, it's like it never happened. It's like when they leave on a Sunday afternoon and I say, 'Well, let me tell you why you shouldn't lie.' It was a way for me to tell them these things in a book so that those types of conversations don't get lost."
Ethan Hawke, is totes our new favourite celebrity Dad now.
We've rounded up some of our favourite co-parenting celebrity couples out there, who are putting aside their differences for the sake of the kids.
1) Gwyneth Paltrow and Chris Martin
When the famous power-couple, and parents to Apple and Moses, announced their "conscious uncoupling" after ten years of marriage, back in 2014, we were shocked. The epitome of cool, and something of a stalwart for Hollywood, we just couldn't imagine the pair not together. But in their trademark classy style, the pair gushed over each other, saying how much love and respect they had for one another, and they've continued to make the kids their priority, even holidaying together in Mexico. Paltrow has admitted that it isn't always easy: ""What that really means is, 'Even though today, you hate me and you never want to see me again, like, we're going to brunch, 'cause it's Sunday and that's what we'll do!'"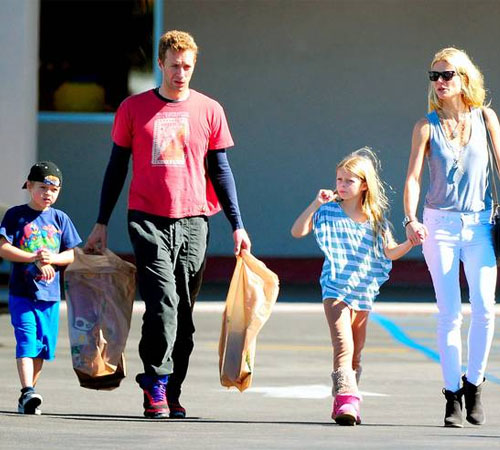 2) Ben Affleck and Jennifer Garner
Another shocker came in June this year, when Ben Affleck and Jennifer Garner broke the news that they would be ending their decade of marriage. The parents to Violet, 9, Seraphina, 6, and 3-year-old son, Samuel, announced to the press that they would continue to live with their children at their home in Los Angeles. The family were photographed shopping this weekend, leaving Cake Mix and later a toy store in Brentwood. A source said, "This is something they have been working on for over a year – and they continue to be strong unit."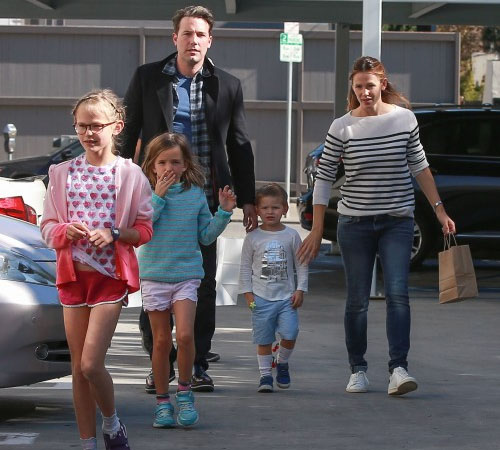 3) Heidi Klum and Seal
After almost seven years of marriage, model Heidi Klum, and singer, Seal, revealed back in 2012, that they would be separating. The pair have three biological children together, sons Henry and Johan, and daughter Lou, as well as Heidi's daughter Leni, whom Seal officially adopted. Pictured cheering on son, Johan, at a football game this weekend, the former couple seemed amicable, even sharing a friendly kiss. Heidi said: She added: "As a single parent, you have so many roles – you are wearing all the hats. The mom hat, the dad hat, the chef hat, the teacher hat, the disciplinarian hat, the clown hat and the work hat. You have your hands full, but you just try your best because it's all about raising happy and healthy kids. That's all we both want."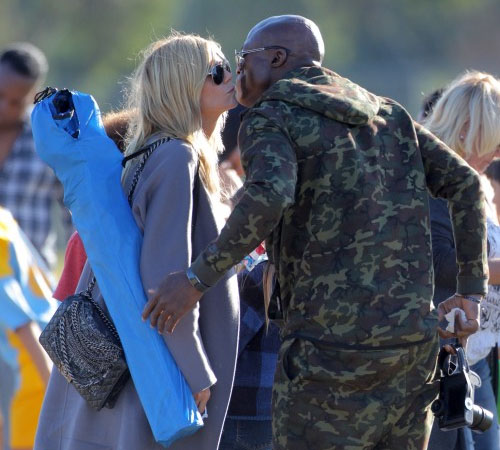 4) Mariah Carey and Nick Cannon
Despite her amateur dramatics as a pop superstar, there has been nothing diva-like about Ms Carey since the couple filed for divorce last December. The pair, who were together for six years, have shared love for each other since the split. Nick wished his ex a happy Mother's Day on Instagram, and the family spent Halloween together with their four-year-old twins, Moroccan and Monroe.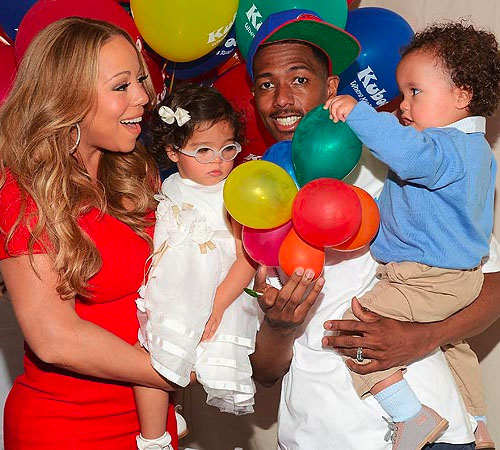 5) Demi Moore and Bruce Willis
Their kids may be all grown up now, but Bruce and Demi's high profile split back in 2000 split up their family of five—daughters, Rumer, Scout and Talullah—who were all at a tender age at the time. The couple's split was extremely amicable and when Demi remarried Ashton Kutcher in 2005, Bruce and the whole family were in attendance. Plus it was touching to see both proud parents in the audience when oldest daughter, Rumer, took the Dancing with the Stars crown earlier this year.