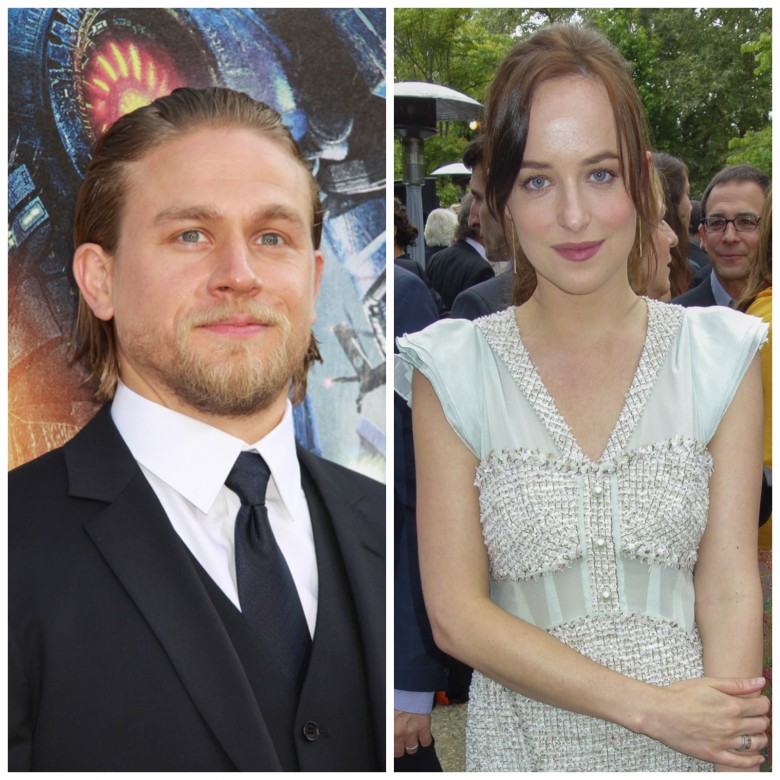 After over a year of intense speculation (will it be Ryan Gosling? Will it be Emma Watson?), fans of the "Fifty Shades of Grey" can put their collective guesses to rest. Today, none other than the author herself announced the two main leads for the much-anticipated big-screen adaptation of the "mommy porn" book. If you were expecting famous actors, you are probably going to be disappointed with the choice.
Author E. L. James tweeted the news that Dakota Johnson (23) will play Anastasia Steele and British actor Charlie Hunnam (33) will take on the role of her kinky billionaire lover Christian Grey.
While likely unknown to most of us, Dakota Johnson comes from a Hollywood pedigree. She is  the daughter of Melanie Griffith and Don Johnson and granddaughter of Tippi Hedren (The Birds). While we can't say they cast a total unknown actress in the role, Johnson isn't exactly a household name – yet. To date, she's had smaller roles in The Social Network and The Five Year Engagement.
As for Hunnam, he was in Sons of Anarchy and you may have seen him most recently in this summer's Pacific Rim. 
So far, I'm not sure I'm terribly impressed, but then again, I'm not expecting an Oscar-winning film. I think casting actors who are not yet easily recognizable is actually an exciting choice. I had been hopeful when E. L. James announced back in June that the talented Sam Taylor-Johnson would direct. Back then, she was considered a surprising choice – not just because she's a female director (which I think is actually a great idea) but also because up to that point, her only feature film to date is the highly acclaimed 2009 John Lennon biopic Nowhere Boy. We shall see!
 So…Fifty Shades of Grey fans out there…what do you make of this casting news? Disappointed? Excited?