For some people pregnancy is a rough nine month ride that they can't wait to get off. But for others—let's call them they lucky ones—pregnancy is a wonderful experience that they really love.
Chrissy Teigen is one of those lucky ones. The model and cookbook author spoke with PEOPLE about how much she is loving pregnancy, baby bump and all.
"I'm way more calm now. I like that there's no pressure now."
Teigen recently shared with the world that she and husband John Legend—who conceived via IVF—actually chose to have a baby girl. Some people were outraged, but we couldn't hold it against her when she shared the adorable reason they wanted a girl.
"I think I was most excited and allured by the fact that John would be the best father to a little girl. That excited me," she explains. "It excited me to see … just the thought of seeing him with a little girl. I think he deserves a little girl. I think he deserves that bond. A boy will come along. We'll get there too, so it's not like we really have to pick. But he definitely is very lucky to have a little girl. And this girl is going to be so completely lucky to have John as her papa—it's crazy!"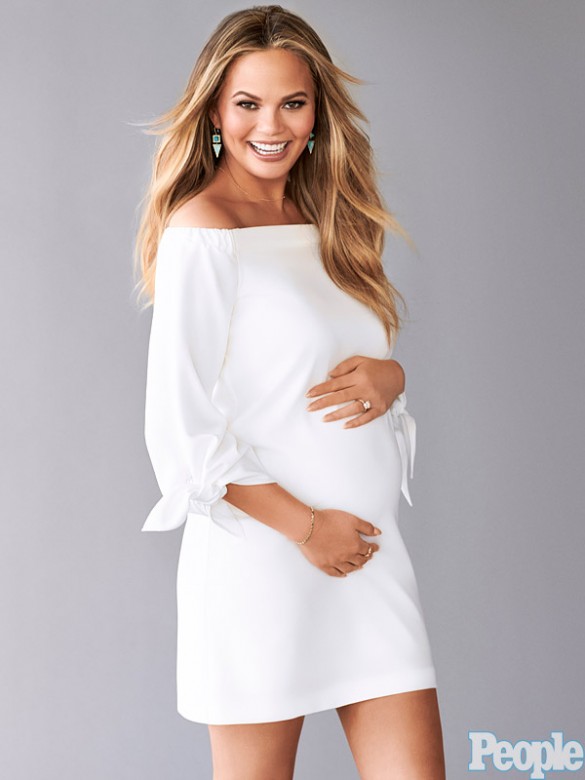 It's no wonder that Teigen is feeling less stress now—as a swimsuit model, Teigen was constantly under pressure to stay keep herself in tip-top shape.
"I felt unfit all the time before. It's nice to relax and feel like you don't need a six-pack," she shared. "I truly embrace this body. I think I might be happier pregnant. I love it."
When Teigen thinks of her post-baby body there is only one word that comes to mind: "Pressure, there's a lot of pressure!" But there is one thing she is looking forward once her baby girl arrives: "A 32C bra would be nice to wear again."