The latest binge-worthy series landed on Netflix Canada recently and it's definitely creating a lot of buzz, particularly for the incredible casting of kids alongside Winona Ryder. Stranger Things is an eerie, suspenseful drama that follows the adventure of a group of kids around a small town. Set in the 80s, the kids are engrossed in a game of Dungeons & Dragons. After being told to finish up playing, the kids leave their friend's home. But Will Byers gets sidetracked and disappears into a wooded area. His mother and brother notice he's missing the next morning and frantically search for him. She heads to the police who are not too concerned, but she's got that gut feeling that something is really wrong.
As friends, family and reluctant local police go searching, they are drawn to a strange mystery involving top-secret government experiments and the discovery of a strange girl dressed in a tattered hospital gown with the number 11 tattooed on her arm. She also has supernatural powers. Does she have something to do with Will's disappearance?
In the first episode, one quote sticks out: "99 out of 100 times when a kid goes missing, he's with a parent or relative." Well, this is a story about that other time….
Think along the lines of a paranormal, Stephen King-esque, Poltergeist kind of scary, and you're halfway to understanding what Stranger Things is all about.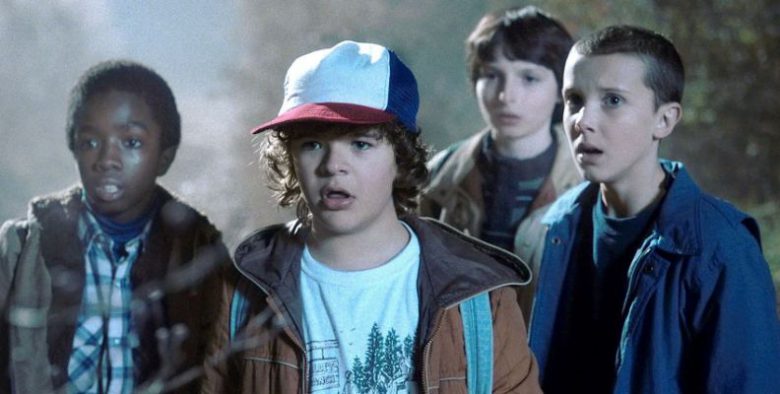 Young Canadian actor, Finn Wolfhard, plays Michael Wheeler in the series and we had a chance to sit down a25nd chat with him in Toronto as he's in town shooting on another project…
How's the ride so far with Stranger Things?
Finn: It's been really cool! I didn't really think it was going to be so big. I'm getting a lot of positive feedback. I knew it was an incredible show having worked on it, but I didn't expect so many people would like it since it's only been out for three days now.
I know! I just started watching and can't stop talking about it with my friends. Have your friends been watching too?
Finn: Yeah, well the cast that I'm shooting with now in Toronto have been watching it and finished it already. I finished it myself. It's pretty fun to talk about it now.
What was the scariest part of the show for you? And do you think it's too scary for kids to watch? (Everyone I know watching seems to be adults.)
Finn: I think it really depends on the kids. I think maybe 12 and older will be okay. I think it's a really cool show but yeah the monster scared me the most. It's very, very scary. We saw early cuts of the show together as a cast and a couple of scenes scared me. The opening elevator scene was pretty scary too. There's a part in episode 7 where Will hears the monster and it goes silent, but the sound is soooooo scary.
So,  how do you deal with the scary movies?
Finn: I used to be really scared of horror movies but now that I'm in this I have a better understanding of what to expect being an actor. I know it's not real so I can watch them now and not be scared as I used to be. But if I really get scared I have to remind myself that it's acting.
I heard that over 900 boys tried out for the roles in this series. So, when you found out you must have really been excited?
Finn: Yeah, it was a lot of kids. But I think for the director and casting agent they were looking for kids who were real with regular personalities which was really cool. They wanted the most realistic kids and our characters are kind of based on who we are really. Like Gaten, who plays Dustin, the writers actually included his real-life health condition to be part of the show. But when I heard I got the part, I was actually sleeping and it was twelve o'clock when I got the call… I totally freaked out! It was so tired and it didn't really register right away but then I was like WOW!"
So, what did you spend your first pay cheque on?
Finn: Um…I think a book.
A book? Not the latest video game? That's so awesome!
Finn: …and a game.
Haha! The movie is set in the 80s. Was that weird for you?
Finn: Yeah, it was weird! It was such a huge time change for me because I'm so used to living in the world now but when you're completely immersed in a completely different time period it changes the way you think and do stuff. On-set there was so much cool 80s stuff. A lot of the stuff was in the basement set and we really wanted to sleep over.
You also worked with Winona Ryder! What is she like?
Finn: Oh yeah! She's incredible! It was very cool to see her act and to learn from her. Her character is such an emotional wreck through the entire first season. What was really cool was to see her come off the set and just play with all us kids. I mean, she could have just gone back to her trailer in between takes but instead, she created great bonds with everyone. She's really nice.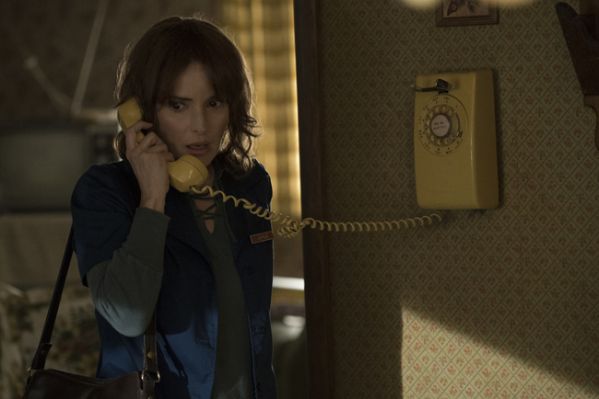 If you had supernatural powers what would you wish to have?
Finn: I would want to be invisible or regenerate so if I ever got hurt I can (insert shwoop sound) and fix myself.
If you were to create your own monster what would it look like?
Finn: I really like the Stranger Things monster. I'd want it to be tall, super skinny with long arms.
What do you do for fun?
Finn: When we were filming in Atlanta we had time off and we would go to places like the amusement park. It was really funny because me and Gaten love rides and the other two were so scared. We just laughed the entire time.
Last question..are you playing Pokemon Go?
Finn: Everyone is asking me that! YES, I AM! It's such a cool concept! Are you?
Of course.