If you're a fan of the Family Channel's #1 hit show, The Next Step, you're in for a real treat! The cast, who also went on a national sold-out live performance show earlier this year, will be on the big screen in a Cineplex Special Event!
The Next Step Live – The Movie will premiere in 80 Cineplex Theatres across Canada  June 27 & 28, 2015. Tickets are already on sale! This is a chance for fans get the best views of their favourite members of the dance troupe as they travelled across the country during the tour and go behind the scenes in this 80 minute documentary.
Follow the dancers of the popular drama series with exclusive footage captured backstage, on the tour bus, meeting fans and performances as well as gaining insight from cast members through exclusive interviews. By the way, there will be meet & greets happening in various cities and theatres too. You'll want to follow #TNSTHEMOVIE on Twitter for more details as they will be released any day now!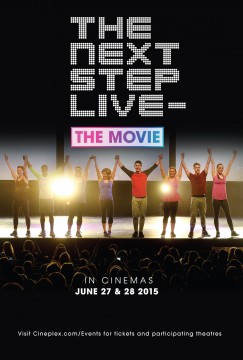 We can't wait! But while we're getting ready for the screening we had a chance to chat with member Jordan Clark!
Winner of So You Think You Can Dance Canada (Season 4), Jordan Clark is the proverbial small town girl with big city dreams. Originally from Tottenham, Ontario, Jordan knew she wanted to become a professional dancer when she was eight years old. She started training at the age of five in Tap, Ballet, Hip-Hop, Contemporary, Jazz and Acro and was teaching by the age of 12.
Shortly after winning the title of "Canada's Favourite Dancer", Jordan immersed herself in film and television classes. Committing to this new discipline with her dancer work ethic quickly paid off when she landed one of the starring roles, Giselle, in the hit Family Channel/ Disney series The Next Step now in its third season. Another anticipated project sees Jordan in the lead role of Shotsy in the feature film East Side Story, written and directed by David Winters.
Here's our interview with Jordan!
Sonya: How did you get into dance to begin with? I think you were more into gymnastics?
Jordan: Kind of… When I was 5 years old I saw this gymnastics movie and I saw a girl do a back-tuck (back flip) and I was in complete shock to be honest. I couldn't believe that it was even possible. Immediately after, I asked my mom if she could put me in gymnastics.  Instead, she enrolled me in Acrobatics at a dance studio. I remember feeling so upset because I had no idea what Acrobatics even was but I went to the class anyway and fell in love. From there, I just kept doing different styles of dance and falling even more in love with the art form.
S: You really wow'd us on So You Think You Can Dance Canada Season 4. What was it like to win that?
J: Aww thank you! It was such an intense process being on the show, I am so happy that I did it. I can't really begin to tell you what it was like because it feels like it never happened – that it was just an amazing dream. I go back and remind myself once in awhile what it was like to be on the show and I get pretty teary. I had such talented dancers dancing beside me all the time and extremely talented choreographers as well. So I just felt super inspired the whole time. It was an amazing dream. 🙂
What was the best advice anyone has given you on this journey so far?
I must say I have been pretty fortunate with the people around me. I have extraordinary teachers, family and friends so I get a lot of advice and it's hard to narrow down to one thing. Be grateful, realize how much you have to offer, and a positive attitude is the only way. I would say that is the most important thing to remember.
S: Tell us about a typical day for you?
J: Oh goodness! A typical day is pretty hard to say – I would probably go to the gymnastics Gym and practice my tumbling for a couple hours then go to singing and acting class. Those are my normal days I would say. It truly is different every day. I think it's really important to listen to your heart and your body to see what it wants and needs. Also, the growth of an artist is really important, I'm always trying to push myself in many different ways. I don't know if I have ever done the same thing 2 days in a row.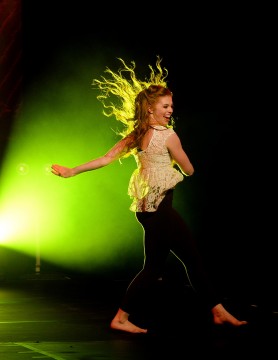 S: Are you amazed about the crazy success of The Next Step?
J: I am extremely amazed. I don't think any of us expected this kind of reaction to the show. I know that it is the best job I have ever had that's for sure. I feel really proud to be on the show and there is such a great team involved.
S: When The Next Step show went on tour, you got to meet your fans in real life. What was that like?
J: Extremely overwhelming. As a dancer, something like this almost never happens. Typically, you would not be a dancer that is the headliner of a show. You would usually be in the back behind a singer, so the fact that we got our own live show is very fulfilling. The fans were amazing and it was great to see all of Canada and meet new people as well.
S: Now The Next Step Live: The Movie is coming out! We're seriously excited! What can we expect?
J: You can expect so much! A lot of behind the scenes stuff. For instance, what we did in our free time, getting ready with hair and make-up, warming up, and seeing how we interact with one another as ourselves rather than our characters. If you are a true TNS fan it is a must see!
S: Any funny stories happen on set that you can share?
J: We are always laughing! The cast is really funny so we are always joking with one another. On tour I know Trevor (who plays James on the show) stood in for a duet as one of the girls… this was BRILLIANT! I think it's on The Next Step YouTube page, so if anyone wants to check it out, it's definitely worth your time.
S: What song will always keep you dancing?
J: That is way too hard to answer! It depends on my mood in the moment.  If I'm feeling hyper, probably something that Beyoncé sings but I love all kinds of music like Mumford & Sons, Imogen Heap and James Bay. I'm not someone that has a certain style. I'm pretty open to all types of music so it's extremely hard to choose one song!
Thanks so much Jordan!