There are so many inspiring women that I've met over the years and Jill Hennessy is one that could easily be added to my list of "I don't know how she does it all" category of people. You may recognize her name from her various roles on television including her recurring role on the CBS hit political drama Madam Secretary. She's also known for her starring roles in the hit television series' Law & Order, Crossing Jordan and in several episodes of The Good Wife.
But did you know that she began her show business career as a musician, busking in the streets of Toronto? Jill talks about how it all happened when she left home (Edmonton) at the age of 17 and went to Toronto. She recalls two buskers playing "Take it Easy" by the Eagles and she knew all the harmonies of the songs since her dad had played Eagles all the time—so she began singing along with the guys on the street and actually making money. The group worked their way up to playing coffee houses, underground clubs and subways. At one point she accompanied a friend to an audition and was coerced on stage and that's how everything started.
Jill is currently on tour (in between acting shoots) with her recently released album titled I Do which is described as primarily a collection of stories about love and relationships. I Do explores the beauty and struggles of marriage, while many other songs deal with the seismic upheaval and pain of losing that love. You can find out more about her tour on her official website jillhennessy.com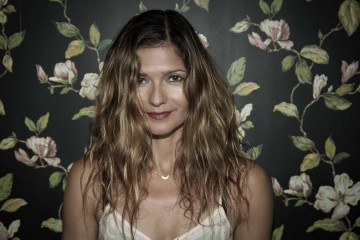 We had a chance to chat with Jill about where the deeply moving music comes from.
I've read that you have a deep connection with Buddy Holly, can you tell us about that?
I grew up listening to a lot of Buddy and when I was living in Toronto I played guitar for a friend's audition for The Buddy Holly Story musical that was going to Broadway. So Buddy Holly got me on to Broadway and in to the United States where I later moved in to the same apartment building that Buddy used to live in. I also recently found out that my guitar strumming style is the same as Buddy's which is a fairly unique form of strumming called rifling. Half the band members that we recorded both albums with are from Lubbock, Texas, Buddy Holly's hometown.
You've written your songs and when listening I can sense an amazing emotional pull. As an artist, do you feel like your putting yourself out there and is that scary?
As an artist, be it as an actor or as a musician singer/songwriter, I feel as if I'm always putting myself out there and in terms of the music and songwriting I like to feel that what's most personal is most universal and as such will resonate best with the audience. It's always terrifying and exciting.
Love has so many avenues in life. As a mom, what have your children taught you about love?
My children have actually inspired most of these songs and actually really pushed me into writing songs in the first place. They always teach me about how infinite love is and how it keeps growing and evolving and that's there's no one definition of that parent child relationship. They remind me that love is always there and that it never dies.
We know you primarily as an actress so how have people reacted when they find out that your talents go beyond recognition on stage and television?
People are usually very surprised when they find out that I sing and write music and luckily they've also been very impressed with the actual songwriting and the fact that I do all of the music and lyrics myself and in general are very moved by the subject matter and lyrics of the songs.
You've sung with other artists like Martie Maguire of the Dixie Chicks. Who would you love to sing with now?
Bruce Springsteen, especially since I just played a gig with Max Weinberg
How would you describe your latest album?
My favorite description of my latest album comes from Walter Price at Global Texan Chronicles, he wrote: "I DO is an important album for humans who feel and are trying to work through what they are living." Which is exactly why I write music. I'm so happy with the result It's exactly what I wanted…perfection.
What do you love about singing that's different from what you love about acting?
The immediate personal connection to an audience and the chance to tell my own very personal stories. Unlike acting there is no collaboration and no editing. I write all of the music and lyrics, sing and play guitar and produce the record.