Award-winning actress Alisen Down stars in the highly anticipated crime drama series, Gracepoint, premiering of FOX and Global, this coming October 2nd.
Gracepoint is a new 10-episode mystery expansion series based on the UK's critically acclaimed show Broadchurch. The story is about a major police investigation in a small California seaside town after a young boy is missing. Soon deemed a homocide, the case sparks a media frenzy, which throws the boy's family into further turmoil and upends the lives of everyone who lives in the town. It's a town where everyone is a friend and a suspect. The original series was a huge hit in the UK — even several of my friends across the pond who have seen the Broadchurch said the show was gripping.
Alisen Down plays the role of Kathy Eaton, the editor of the local newspaper and in many ways the voice of the town. Trained in the big city, Kathy believes in journalistic integrity, but strives to find and report the truth. Her character is intelligent, intuitive, savvy and also compassionate.
Alisen chats with us about what it's like to be a part of this television series and what goes through her mind, as a mom herself…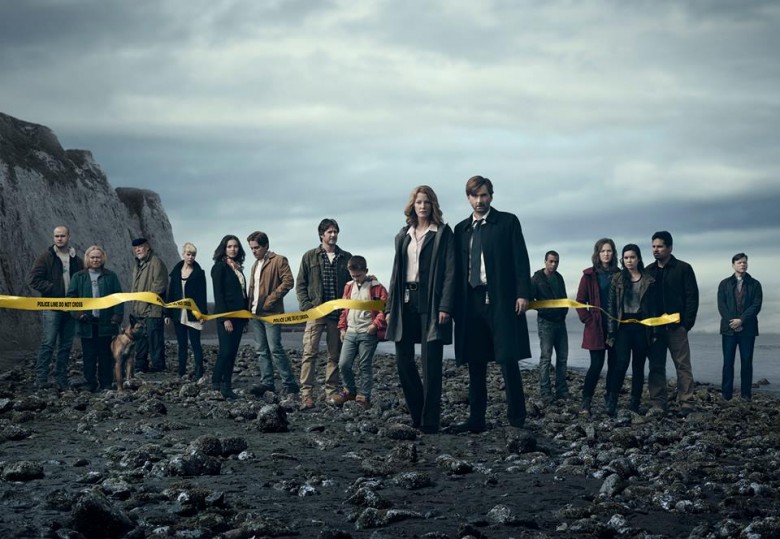 You're a mom, so how does it feel to be working on a series with a storyline that is a fear in any parent's mind?
AD: Well, it was a hard subject for me, for sure. I am the mother of a little boy and it is the absolute worst fear of any mother. I definitely held my son close whenever I wasn't working.
There must have been days that were tough to handle?
AD:Yes. My character isn't necessarily in the thick of the "pain" of the loss but there was a weight of sadness for sure, as the subject matter is so raw.
How do you cope? You're an actress but how do you remove yourself from the feelings?
AD: Honestly, I made sure to take care of myself during filming. I made sure to eat well an exercise and get sleep. As soon as any of those things fall by the wayside when I am working on such heavy subject matter, the mind and heart are not far behind. I made sure to stay connected with my son and my husband. And sometimes, I made sure to laugh with my cast.
Your character is an editor/investigative journalist in this series, did you shadow anyone in this role or study any real person in the media to prepare for this role?
AD: I was cast and then on a plane the next day to shoot so I had to just jump in! I tried to read as much as I could and I took a magazine writing/journalism course a few years ago that I really tried to lean on as well. It's actually such an interesting career; I would love to be a freelance journalist.
Now that you've sort of stepped in the journalist's shoes, what has surprised you about this type of career?
AD: How limiting the truth can be. And the limitations it can put on what you write and don't write. And the fine line I think some journalists walk between truth and sensationalism.
There's been a lot of chatter about how this remake is so close to the original, Broadchurch. Any thoughts on this?
AD: I have heard some of this chatter! I say to Broadchurch fans: give Gracepoint a chance. I promise you will love what you see. I promise you will get sucked in.
How is your character different from the original one?
AD: Well, I am younger than the amazing Carolyn Pickles who played Maggie Radcliffe in the original. They were looking for an older actress but liked my audition so much that they cut my hair and put grey in it to age me "up". I definitely wasn't worried about being like her because we are so different in look and feel.
What do you want people to know about this series?
AD: How proud I am of it. I think it is really special.
If you could have dinner with anyone in the world… who and where?
AD: Angelina Jolie because I admire brave women. Somewhere in Paris because I would love to see the lights and hear the sounds of that city.
What do you do to relax?
AD: I cuddle with my bird, brush my cats, walk my dog, give my husband a hug, or run my fingers through my son's hair.
What's on your bucket list?
AD: Making a documentary about Elephant poaching in Africa
Your favourite quote/or daily mantra? 
AD: "Leap and the net will appear."
More about Alisen Down….
Alisen can be recognized from her role as Jean Barolay on the renowned television series Battlestar Galactica. In addition, she has appeared in TV shows including DaVinci's Inquest, Stephen King's Dead Zone, Stargate SG-1, Smallville, Flashpoint, Shattered, The L Word, The Killing, CBC's Murdoch Mysteries and Cracked, R.L.Stein's The Haunting Hour, Lost Girl, Supernatural, Transporter: The Series, Haven and more.
Born and raised in British Columbia, Alisen attended the American Academy of Dramatic Arts in Los Angeles, California and from there went to England to study with the British American Academy in Oxford.
Gracepoint will air this fall on Global premiering on October 2, 2014 at 9:00 pm ET/PT.