Award-winning actor Jean-Michel Le Gal stars in the new teen comedy Max and Shred (Nickelodeon and YTV). The show is about a unlikely friendship that forms when an easy-going superstar snowboarder moves in with a academic whiz kid and his family. The show centres on the boys' evolving relationship as they navigate teenage life.
Jean-Michel's character, Lloyd Ackerman, plays the dad of the household but often comes across more childish than the rest of them. Always wanting to hang out with the kids, Lloyd likes to think of himself as a fun dad. Now with Max in the house, Lloyd can live out his father-son sporting hopes — much to the relief of his own son.
I had a chance to speak with Jean-Michel about his fun new character on the show.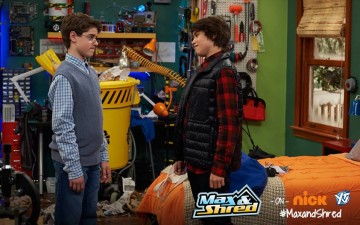 You play a Dad in the new show Max and Shred, one that wants to be cool and hang out with the kids. So, who's your inspiration for this "cool dad"?
My inspiration is my own dad. Growing up he was always joking and pulling pranks. But my Dad was mature and commanded respect. Lloyd is so youthful and searching for acceptance, I guess that's what makes him funny.
In real life, do you think you would be THAT kind of dad?
Yeah I think I would want to spend time with my kids and laugh. I would have some crazy projects and adventures. But I think I would put my foot down about stuff a lot more!
There are many great dad characters on television — who are your all-time favourites and why?
Right up at the top for me is Dr. Huxtable on the Cosby Show. He was so warm, funny and sincere. Just a perfect balance.
Have you heard of DILFs? (Our editor just wrote about that recently) what do you think about that term? Compliment or degrading for a guy?
I think it's nice to be desired, but I'm not sure a porn acronym is a compliment for either women or men. Given the wealth of words in the English language, I'm sure there are sexier ways express the same thing. I can think of a couple in French!
What defines a cool dad to you?
A man who wants to be with his family. He's adventurous, considerate, kind, calm, a bit of a trickster and is awesome at BBQing.
You've done a wide range of roles on television, film and onstage. What do you love to do the most?
Really I love the character more than the medium. If there is a well-defined character with a challenging story, it doesn't matter to me if it's on stage or screen. I'm also really lucky to have worked on a bunch in every medium.
You've been in some dramas and more serious roles, what made you jump to teen comedy?
I've always loved comedy, ever since I was annoying my brother and sister as a little kid. Max & Shred is a teen comedy written for teens but it's full of stuff adults find funny. Our show runner George Doty has done a fantastic job and it's a pleasure to work on his writing. That being said, I'm still interested in still performing Shakespeare. Like anything in life it's a question of balance.
You're an outdoorsy person, where is your favourite place that you've visited? And what's on your bucket list?
I'd have to say the family farm in Quebec. Rolling hills, view of the lake, just paradise. Bucket list involves eventually heli-ski in BC, fishing in Nicaragua and backcountry camping in Killarney.
Have you been glamping? Would you? Or are you a traditionalist?
Hell yeah, I've been glamping! I prefer backcountry canoeing, but depending on the group, glamping can be a ton of fun.
Something that people don't know about you?
I help disadvantaged kids write and perform in their own plays. Their stories are so inspiring.
What's your favourite quote?
'Let go of the thoughts that don't make you strong'
More about Jean-Michel:
Jean-Michel can be recognized for his roles in television series' including Orphan Black, Rookie Blue, Flashpoint, Transporter, Mayday, Jeremiah and the French series Ramville and Meteo+.
Additionally, his film credits include Take This Waltz (TIFF 2011), John A.: Birth of a Nation, Foxfire (TIFF2012), Change of Plans, and many more.
Born in Toronto, and raised in Toronto, England and Ottawa, Jean-Michel grew up in a household rich with arts and creativity, building an interest in acting at an early age. Following graduation from a three-year professional theatre program at Studio 58 in Vancouver, he was invited to join the Birmingham Conservatory of Classical Theatre Training at the Stratford Festival; he went on to perform choice roles over four repertory seasons in productions The Tempest, As You Like It, Merchant of Venice and Noises Off, earning him a John Hirsch Award for Most Promising Actor and a Globe and Mail review that exclaimed "A star is born."
After playing Molière in Toronto and at Montreal's renowned Théâtre du Nouveau Monde, Jean-Michel was invited to participate in the inaugural Actors Conservatory at the Canadian Film Centre, where he trained with Kiefer Sutherland, Norman Jewison, and Sarah Polley, to name a few.
When not working, Jean-Michel Le Gal enjoys a number of outdoor activities including archery, fishing, boating, snowboarding, snowshoeing, and backcountry camping. His indoor pursuits include playing guitar and piano, watching theatre, the opera and art galleries. Currently, Jean-Michel lives in Toronto, but his second home is a family farm in Quebec, Canada.