It's amazing to have exposure to great theatre and arts on a daily basis. In cities like New York, London, and Toronto, you can take your pick from elaborate stage productions to fringe theatre and never be disappointed.
This week, the Mirvish family celebrated  50 years of world-class theatre in Toronto with loyal theatre patrons and members of the media. Standing on the stage of the historical Royal Alexandra Theatre, which his father Ed Mirvish bought and restored in 1963 David Mirvish said, "If you had been in this theatre 50 years ago, in September 1963, you would have been settling into your seats for a new comedy called NEVER TOO LATE, directed by the famous George Abbott. This was our first venture into theatre. Dad always insisted that he bought the Royal Alexandra Theatre because it was too good a bargain to pass by. And it was a bargain. The price was almost too low to be believed — $215,000, which compared to the $750,000 in construction costs alone in 1907, was an unbelievable bargain. But here was a catch; Whoever bought the theatre had to promise to keep it running as a theatre for at least five more years."
He continued, "That clause was enough to drive most purchasers away. Back in 1963, everyone assumed that 'theatre' was dead — mortally wounded by the movies and laid in its coffin by television. No one expected that Ed Mirvish could make a go of theatre. I remember that there was even some speculation that Dad had planned all along to renege on his promise before those five years were up — but that wasn't true; they didn't call him 'Honest Ed' for nothing Besides, making a go of a business everyone said was doomed was just the sort of challenge to get Dad interested."
But as David knows, "people are far less interested in what you've done, than in what you're going to do next."
At the celebration (and over a glass of Prosecco and Orange Juice) Mirvish Productions announced the upcoming season includes a whopping 18 shows in 12 months!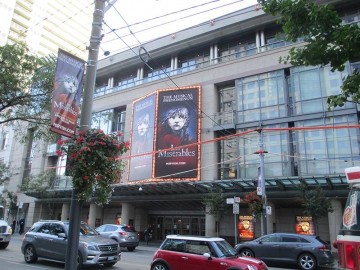 I would strongly suggest you start planning out and taking advantage of the MIRVISH THEATRE SUBSCRIPTION OFFER that will include the following seven shows: LES MISERABLES, Disney's ALADDIN, ONCE, HEARTBEAT OF HOME, ARRABAL, METAMORPHOSIS and THE LAST CONFESSION.
The very popular OFF-MIRVISH SERIES will welcome the Olivier and Tony Award-winning comedy GOD OF CARNAGE. A new comedy DEAD METAPHOR, which has recently received rave reviews in San Francisco at its World Premiere. The final show will be the very raw and powerful drama THE TWO WORLDS OF CHARLIE F. which explores the life for returning soldiers of the wars in Afghanistan and Iraq created, and performed by medically discharged military personnel and professional actors.
In the sister theatre, PANASONIC THEATRE, Brian Henson's PUPPET UP! – UNCENSORED will make it's Canadian premiere (not for kids) with expert puppeteers using audience participation to shape each stage show through improvisation. Not to be missed!
THE MUSICAL OF MUSICALS, THE MUSICAL! will play at the PANASONIC THEATRE. This will be an entertaining spoof of musicals for those who love well, musicals!
"People are far less interested in what you've done, than in what you're going to do next."
In addition to all the amazing new announcements, Mirvish will bring back five-blockbuster musicals and audience favourites including Green Day's AMERICAN IDIOT, CHICAGO, THE MUSICAL, RAIN, the Broadway tribute show to the Beatles, WE WILL ROCK YOU, the Queen Musical, and Disney's THE LION KING.
AMAZING! Throughout the season I'll be sharing with you some of the interviews and reviews. I can't wait!
For more information on the MIRVISH shows, subscriptions and OFF-MIRVISH productions visit the official website at mirvish.com 
Thank you to the MIRVISH Family for bringing 50 years of amazing theatre to Toronto!
What theatre productions are you most looking forward to?
[youtube id="GeVh8eSmCOg"]