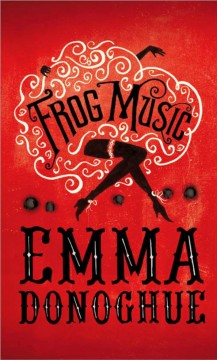 A few years ago, I picked up Emma Donoghue's ROOM, not knowing anything about it. The best-selling  novel was told in the voice of a five-year old boy who has been locked in a room with his mother all his life. It was an amazing, charming, funny literary tour de force. I've been looking forward to Donoghue's new novel for some time, but when I saw it was set in San Francisco, I decided to save it for a recent trip I made to that city.
I love reading a novel set in a city I'm visiting; it makes exploration even more interesting, and allows me to see the city in a different way.
"Frog Music" is set in Summer of 1876 with San Francisco in the fierce grip of a record-breaking heat wave and a smallpox epidemic. Through the window of a railroad saloon, a young woman named Jenny Bonnet is shot dead.
The survivor, her friend Blanche Beunon, is a French burlesque dancer. Over the next three days, she will risk everything to bring Jenny's murderer to justice–if he doesn't track her down first. The story Blanche struggles to piece together is one of free-love bohemians, desperate paupers, and arrogant millionaires; of jealous men, icy women, and damaged children. It's the secret life of Jenny herself, a notorious character who breaks the law every morning by getting dressed: a charmer as slippery as the frogs she hunts.
The novel digs up this long-forgotten, never-solved true crime in thrilling literary style. The work is peppered throughout with the songs that migrated across the world, and it was interesting to me to recognize a few as passed-down folk songs. Emma Donoghue's lyrical story of love and bloodshed among lowlifes really captures the pulse of the boomtown that was San Francisco post-gold rush.

Emma Donoghue's greatest gift as a writer is sharing and developing characters through other characters' eyes. In ROOM, we learned all we about Jack's mother from his own perception of her. In "Frog Music" we learn about Jenny Bonnet (and many other fascinating and multi-dimensional individuals) through Blanche's eyes and descriptions. What I loved most about reading "Frog Music" while in San Francisco is that the city itself came alive as an integral character of the novel. I learned so much about the city's history and its people, which enhanced my visit to the city, but also made the book more enjoyable.
"Frog Music" is a fantastic story that clips along at a brisk pace. It's very different from ROOM in style and theme, but it's a wonderful novel that stands on its own.