There are very few feelings better than getting a handful of pages into a new book and realizing that you love this writer, this genre, and these characters. Last week on the first day of my March Break staycation, I picked up Laura Lippman's "After I'm Gone", a book that had been recommended to me by Anna Quindlen a few weeks earlier when I interviewed her.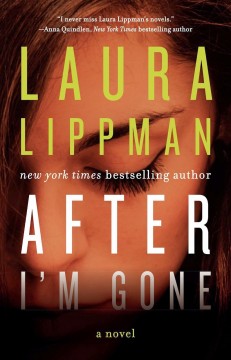 The jacket quote confirmed what Ms.Quindlen had told me, "I never miss Laura Lippman's novels." I'd never read any before, but count me in the camp that won't miss any in the future.
When Felix Brewer meets nineteen-year-old Bernadette "Bambi" Gottschalk at a Valentine's Dance in 1959, he charms her with wild promises, some of which he actually keeps. Thanks to his lucrative-if not all legal-businesses, she and their three little girls live in luxury. But on the Fourth of July, 1976, Bambi's comfortable world implodes when Felix, newly convicted and facing prison, mysteriously vanishes.
Though Bambi has no idea where her husband-or all of his money-might be, she suspects one woman does: his devoted young mistress, Julie. When Julie disappears ten years to the day that Felix went on the lam, everyone assumes she's left to join her old lover-until her remains are eventually found in a secluded wooded park.
Now, twenty-six years after Julie went missing, Roberto "Sandy" Sanchez, a retired Baltimore detective working cold cases for some extra cash, is investigating her murder. What he discovers is a tangled web of bitterness, jealously, resentment, greed, and longing stretching over three decades that connects five intriguing women: a faithful wife, a dead mistress, and three very different daughters. And at the center is the man who, though long gone, has never been forgotten by the five women who loved him: the enigmatic Felix Brewer.
Felix Brewer left five women behind. Now there are four. Does at least one of them know the truth?
You know a mystery novel is great when you're torn between wanting the story to end (because you can't figure out whodunnit) and never wanting it to end (because the characters are so great that you don't want to say goodbye). "After I'm Gone" is a wonderfully crafted mystery novel. The author provides a tangle of lies, secrets, twists and shocks right up until the last page.
More important to me are the wonderful characters who inhabit this novel. The Brewer women are all incredibly human and deeply complex, and the author delves deep into the effects of being left behind, husbandless and fatherless for all these years. Following these flawed women elevates this detective novel into a novel about humanity, and that's what made it so powerful for me.
In some sense, the author's hometown of Baltimore becomes a background character in the novel. Setting is important, and this reader lost herself into the city. (On a side note, my research on the author led me to this tidbit; a former journalist, Lippman's husband is David Simon, creator of "The Wire" and co-creator of "Treme". There's a power couple I'd love to include at my next dinner party!)
Lippman also offered this answer when asked in an interview about the last book that had disappointed her, that she'd put down without finishing, "I put books down all the time and am often out of step with mainstream opinion. I stopped reading one beloved book on the penultimate page because I didn't want to reward the writer by caring enough to finish."
I think I have a new author crush.