This video of a little baby from Australia will remind you to appreciate something we all take for granted — our hearing.
Soon after he was born, little Lachlan was diagnosed with moderate-to-severe hearing loss and at seven weeks old, got his first pair of hearing aids. At first, Lachlan isn't too thrilled to have these foreign objects placed in his hears, but then something magical happens. He stops crying, gets wide-eyed and smiles as he hears his parent's voices for the first time. The moment brought instant joy his Australian parents, Michelle and Toby Lever, and is now giving millions of others a reason to smile as well.
Even though this viral video was posted on Youtube just a few days ago, this emotional moment took place back in 2012. Believe it or not, this precious video has been living on the internet for quite some time now. Lachlan's mom, Michelle, posted the video on her Facebook page back in November 18, 2012 and has just recently skyrocketed in popularity with over 310,000 likes and almost 500,000 shares.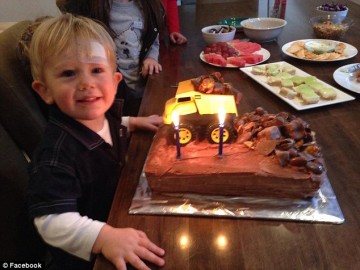 "Our beautiful little boy is now two years old and doing remarkably well," Lachlan's father, Toby, wrote in the Youtube video description.
According to Daily Mail Australia, Lachlan just recently celebrated his second birthday and looks like he hasn't stopped smiling ever since!
"It's such a happy, special moment. My baby's world just opened up, it was so emotional. Now that it's gone viral I'm reliving that moment all over again," said Michelle to the news outlet.
She also said that she hopes the video will help others going through a similar situation, find a new sense of faith.
"I hope it can give some other families the realization everything is going to be okay."
Watch the video below and prepare yourself for all the feels.