You can just feel the excitement in the air with the FIFA World Cup just days away. It all goes down in Brazil from June 12 to July 13. The kids have been kicking around the soccer ball at school and at home. Parents are all excited too. Parties are being planned and cars are proudly waving flags all over the city supporting the amazing teams from around the world. The fan spirit is intense in many parts of the world as well as in our city. All of the sudden I'm getting swept into the excitement and becoming part of a global cheering squad. It's pretty amazing!
As we're counting down the days to the games I've come across a few really cool apps that anyone could play. I actually spotted a guy on the subway the other day playing a soccer (or football depending on where you're from) game on his iPad. I, along with other commuters, couldn't help but watch over his shoulder. When I got home I had to download a few FIFA apps and admit that I got a little addicted myself!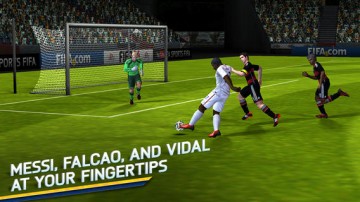 FIFA 14 by EA Sports: This incredible game is great for all ages. Play along with your favourite players  from the official national teams on a virtual game with a stadium full of cheering fans in the FIFA ULTIMATE TEAM mode. Graphics are pretty impressive and you control the movements of your player with the team. Pass, kick and fancy footwork to get around your opponents are easily done with swiping and tapping. Login with FIFA's social network and compare your stats with your friends. This is the one I really got hooked on with my iPhone 5S. My kids also have downloaded them on the iPad. App available FREE on iTunes (iPhone and iPad) and Android.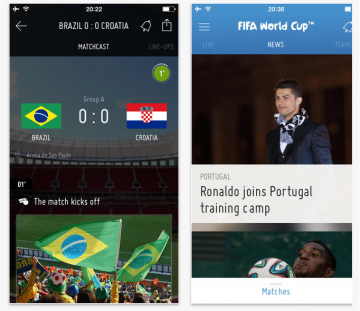 FIFA Official App: Don't miss anything before and during the games! This app gives you the most up-to-date stats, exclusive news and game coverage. Get detailed profiles of teams and players. Get involved too by voting for the "Man of the Match" in each of the 64 games. Play games in the FIFA.com Club including Fantasy, Dream Team Your 11, Predictor and more.  Check out the various game sites and discover bit of history behind the hosting stadium cities in Brazil with gorgeous photos that makes you want to jump on a plane now! App is FREE on iTunes and Android on Google Play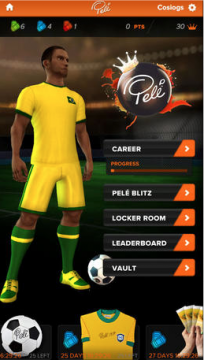 PELE: KING OF FOOTBALL by Cosi Productions LLC:  No one will argue that Pele is a legend in soccer world. This app offers fun not only gameplay with easy gestures controls but players can learn more about Pele's history by unlocking exclusive interview footage from Pele. Head into the locker room customize your player with uniforms, hats, hair styles and more.  Join other players worldwide and compete in the challenges in Pele Blitz and enter for chances to win photos, jerseys, soccer balls and even a chance to win a trip to meet Pele himself! App is FREE on iTunes (iPhone, iPad) and Google Play
Although this isn't an app, kids will love to join Fulecu, the official macot of the FIFA 14 World Cup games on his official website to follow along with all the fun leading up to the matches. Check out photos and videos to learn more about Fuleco and the game. Play searching games online to earn points and learn about his friends. It's a cute site that is designed for younger soccer fans.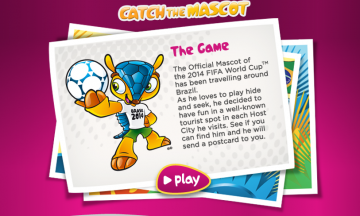 Get pumped up for the games and add the Official FIFA World Cup 2014 playlist to your library from iTunes. Get moving to popular latin sensations Shakira, Ricky Martin, Pitbull,  and many more. Includes We Are One (Ole Ola) The Official 2014 FIFA World Cup Song.
So, what teams will you be cheering for?
Oh, and this video just dropped a few days ago and it's awesome. It's getting me totally psyched for the games. Created by Beats by Dre dubbed "The Game Before The Game" … turn it up loud!
[youtube id="v_i3Lcjli84″]