The Winter Olympic games are just weeks away! The kids are getting excited as we are starting to see commercials and buzz around the Canadian athletes that will be competing. How excited were we to find out that Sidney Crosby has been named captain of the Canadian Men's Hockey Team, right?
So, as we're starting to get into the spirit of things, this new app came to my attention! PRIDE & JOY allows users to cheer on our Canadian athletes at the Olympic games! It will also provided updates and world medal standings during the game AND if you download the app before January 24th, you'll be entered for a chance to win a trip to Sochi to attend the Men's Hockey Gold Medal game! In addition, Mondelez Canada (makers of yummy snacks like OREO, Cadbury, Dentyne) will donate $1 to the Canadian Olympic Foundation for every download!
I caught up with Jen Botterill, a three-time gold medal winner of the Canadian Women's Olympic Hockey team and spokesperson for the PRIDE & JOY App, to find out about her Olympic experiences.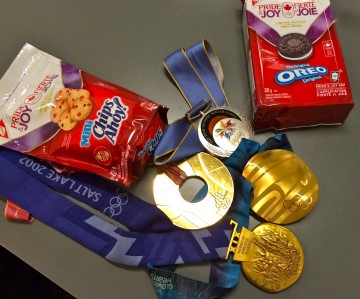 So, where do you keep the medals?
JB: (laughs) Right now I have them at home but they are more fun to share with people. I take them with me to different events as people are really excited to see the medals. There's somewhere recently in Vancouver that the medals were on display and people lined up for 6 to 8 hours in line just to get a chance to see them.
How does that feel for you?
JB: I guess there's just something about the Olympics for people. I remember when I was in grade 8 and I had a chance to hear Olympian Mark Tewksbury speak. I'll always remember that day so vividly. So, I guess a lot of people connect to the Olympics and the medals that's why for us the best part is sharing that experience with Canadians.
When did you realize that hockey was it for you?
JB: Well, when I was young I was an Olympic fan. I just loved the Olympics and remembered thinking at one point that I would love to be there one day. I had no idea what sport right away but I knew I wanted to be an Olympian. When I was a kid I did a lot of sports. My family was athletic but there was never pressure. They just wanted us to be in activities that we loved. I actually started playing hockey later when I was 13.  I grew up in Winnipeg and always did skating. Friends of mine were playing hockey and they told me it was a lot of fun and I should try it. I loved it!  My parents have told many people that they knew it was special because they could see the smile in my cage.  I just loved it!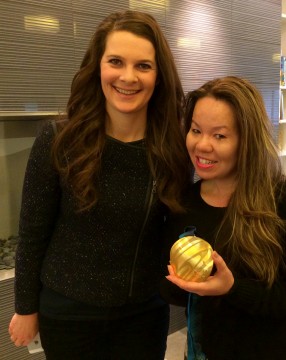 So, what's it like to hear all the fans cheering you and the team on?
JB: The fans really bring the joy into the game. Hearing them cheer really keeps us motivated. There have been Canadian fans at every Olympic games and hearing them and seeing them dressed in red and white is amazing. Vancouver, of course, was incredible. It was really refreshing. The sea of people attending the games and on the streets — it was really cool to see Canadian pride. It made me feel really excited and proud to be Canadian. As an athlete, it's something that you really feed off.
How do you deal with the pressure?
JB: A lot of people ask us how we deal with the pressure and high expectations but as athletes we turn that feeling around and instead of feeling it a burden, we think it's pretty nice that people in this country support us and want us to do well. It's a healthier way to approach the pressures.
The Pride & Joy App is another way for fans to show their support, can you tell us more?
JB: It's a great app because Mondelez Canada approached the athletes with a survey to find out how fans motivates us the most. We wanted fans to know how meaningful it is to us. Their positive encouragement makes us so proud to represent our country. What I love about the PRIDE & JOY app is that the whole idea is to celebrate the games. It's a great way to connect the athletes and their experiences with the fans. You can follow along to find out how the athletes are doing and medal standings during the games. The other thing is that people are always asking how they could support the athletes this is a great way to do so.
I love that for every download Mondelez will donate $1 directly supporting the athletes. This is pretty special to us.
Do you have a saying or mantra going into competitions?
JB: Play with a free mind and an unburdened heart.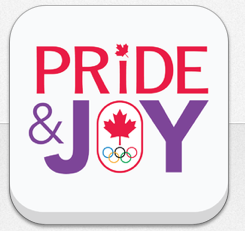 The PRIDE & JOY app is available for FREE download through iTunes, Google Play and at www.prideandjoy2014.ca
Thanks to Jen Botterill and Mondelez Canada for this fun interview!  Jen will be heading out to Sochi for the  Olympic Games as sports commentator for CBC Television. Keep an eye out for her!