The other day hubby said he was looking into getting a new phone. He's been a traditional Blackberry user because of work (and he's got an old one…er, "vintage" as what we like to call these things in our household). He only used it for the necessities, which is fine, but now he's starting to get a little app envy.
Hubby: "It's more of a lifestyle isn't it? like a multi-media device"
Me: "What? my iPhone? Yeah…all the fun stuff I can do with it. Pretty amazing right?"
Hubby: "Yeah, I see all the cool apps out there and I'm thinking it's time to look into options. Looks like fun."
While we all use our devices for our daily needs, we're also constantly discovering neat apps for pure enjoyment. Much better than a smoke break, right??
I've recently discovered a fun photo app called PICTURE THIS! Think quicky scavenger hunt missions to fulfill and share.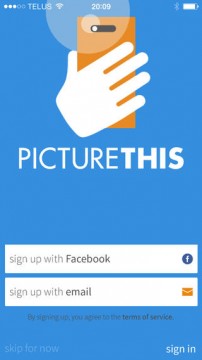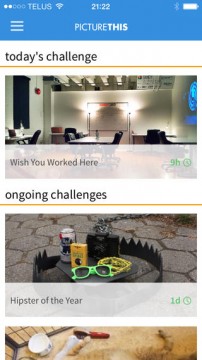 HOW IT WORKS: Each day a new photo challenge is launched and there's a time limit of when you need to snap up your photo and post it on the challenge page. The only catch is that the photo must be taken and uploaded. You cannot use your camera roll to source older photos. Hey, it's a fair game! Some of the challenges run for a week and some for a day. It's fun and slightly addictive. You can go in and vote for your favourite images under the challenges and at the end someone will get bragging rights.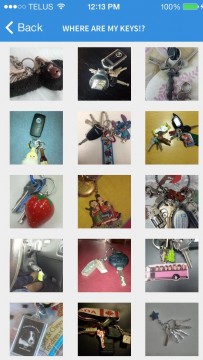 Users can also submit challenges as well. I recently submitted "wish you were here" so we'll see if that goes up! But there have been some funny ones like "I like your kicks" and "where are my keys?"
You can take it further and share on your social networks to get your friends in on the action.
PICTURE THIS! was recently launched at the massive Consumer Electronics Show in Las Vegas by Waterloo based company DANDY – a crowd-sourced based app building company. The original concept was submitted by Nigel Little-Poole, a 19 year old engineering student. Pretty cool for a student to see this come to life! By the way, you can also submit your app ideas to them for consideration!
The app is available for free download on iTunes (iOS7 or later), Blackberry App World and coming soon to Google Play and Google Glass.