I can't wait to see this  movie –just in time for March Break, of course! To coincide with the theatrical release, LUDIA has also launched the latest fun trivia game app of the same name. Inspired by the latest DreamWorks movie you can take the fun-filled adventure to the next level!
The game is hosted by the loveable genius, Mr. Peabody and also features his mischievous boy Sherman.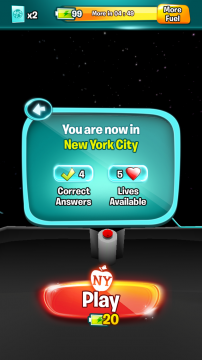 Players travel through time in the WABAC machine to answer multiple choice questions in Challenge rounds. Win the challenges and move on to play Adventure Rounds where you'll enjoy fast-paced true or false questions. Players can also challenge others. On the journey, Sherman and his friend Penny helps as support to help answer the tougher trivia questions. Trust me, you (yes, YOU) will learn some new fun facts with this game that will WOW them next time you're in the line for coffee!
The trivia questions and answers offers interesting tidbits of information in each category. I had no idea that toilet paper was first packaged and sold in…. (I'm not giving you the answer) and did you know that until about 1860, pigs roamed the streets of this city eating garbage? After that, this city started hiring human garbage collectors. Awesome stuff I did NOT know!
The app features…
thousands of questions form historical events, space exploration, movies, famous people and more
connect with and challenge your friends around the world
travel the globe in the WABAC as you progress through 10 unique areas
Keep an eye! As you travel in your time machine you'll earn or win your fuel to continue your journey by correctly completing each level and returning daily. You can also buy your fuel. But if your kids get a hold of the device…and want to buy fuel without your acknowledgement it will ask for your password before proceeding.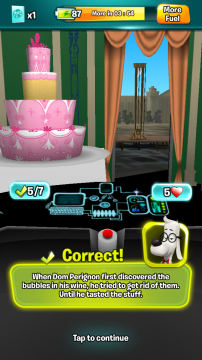 My nine year old played along with me as we waiting for dinner one night at a restaurant. Most of the answers he would not know but playing together gave me the opportunity to share whatever insight I may have….er…like the one about Dom Perignon!
Younger kids would find some of the questions more difficult but great for adults to play along. I've been playing this game on my iPhone while commuting on the bus – not gonna lie, I love my trivia! I'm just looking for someone to challenge. Anyone?
The app is created by Canadian developer, Ludia, a Montreal-based game developer who recently launched the app exclusively on iOS.
"In our ongoing alliance with DreamWorks Animation, our game slate is seeing an exciting unveiling with the announcement of this trivia game featuring the always loveable characters from Mr. Peabody & Sherman," says Alex Thabet, CEO and President of Ludia Games. "Stunning artwork and fast-paced gameplay are sure to draw players into endless hours of pop culture trivia featuring categories that include history, current events, movies, sports, music and much more!"

The Mr. Peabody & Sherman App is available for free from the App Store on iPhone, iPad and iPod Touch. Requires iOS 6.0 or later. Link here: itunes.apple.com