Have you noticed lately that some of your friends are posting funny personalized comic strips on their Facebook pages? Thanks to the popularity of Bitstrips everyone seems to be jumping in on the fun! Okay, even me! But what is Bitstrips? Well, other than FUN it was created as a tool that people could create themselves into cartoon characters and customize comic strip messages.
Each person creates their own unique character (right down to the wrinkles and facial expressions if you want) and then choose from a variety of scenarios  — messages can be customized as well. Then the user can feel free to share on social media!
I recently had a chance to interview  BA (aka Jacob Blackstock), CEO and Creative Director of Bitstrips Inc, to find out whazzzzzzup!
When you first conceived the idea of Bitstrips, who did you think your target audience was going to be and what were your hopes and dreams?
We didn't have a specific target audience in mind when we first created Bitstrips 7 years ago. For us, we went in thinking Bitstrips would be appealing to people who were looking for a fun and unique way to express themselves.  Today our users come in all ages, male female and from all over the world. We're also seeing a great deal of active users in the 18-24 age group.
Were you surprised that students and teachers started using Bitstrips for classroom assignments? 
Our original vision for the company was based on the idea of helping people create comics for friends. After our launch, we noticed educators and teachers started using the comics as a way to communicate with students that led us to explore the potential within the academic world and create Bitstrips for Schools. It's amazing to see kids getting really engaged with their school work and getting excited about reading and writing. We realized it was a combination of using a medium they love which is engaging and expressive and also the fact that they were using their own personal avatars. They're not just communicating through comics, they're communicating through their avatars, and that's something that is really powerful.
For someone who is not familiar with Bitstrips…can you give a bit of history/ background info?
Sure, I've been drawing and creating comics since I was a little kid. Our team has been friends for decades and a love of comics has always been central to our friendship. We've always enjoyed making comics for each other, whether in the classroom in high school, or faxing funny or embarrassing comics to each other at work to get each other into trouble.
The idea of Bitstrips came about when we came to the realization that technology had reached a point where it could enable everyone to be creative regardless of their ability to draw, and thus enable everyone to have the same kind of fun we were having. We bootstrapped the company in 2007, and launched our first website in 2008, followed by Bitstrips for Schools and the Facebook and mobile apps. It's all been 7 years in the making.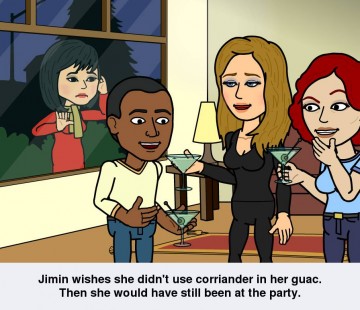 The mobile app just launched recently…what cool features can we expect from this? 
The mobile app is the most streamlined version of Bitstrips yet – it's designed to be as fast, fun and easy to use as possible.  In the palm of your hand you can turn your friends and family into interactive cartoon characters, and then instantly put them into all kinds of scenes and comic messages – which you can share with other friends using the app, or post to your favourite social network, or send privately to friends by text or email.  We add new scenes every day so there's always something new to create!
I noticed that Bitstrips has taken off on a bit of a trend with some adults (moms/dads) on Facebook. When did that start happening? Why the mass popularity all of the sudden? 
The mobile app really catapulted Bitstrips into the mainstream. It started in the states and spread to the rest of the world. The app hit the #1 spot in US App Store two weeks after launching  and sat at the top spot for a month. Within that time Bitstrips was the #1 app in over 40 countries and the #1 entertainment app in 90 countries.
In terms of the popularity, visual communication goes back to the dawn of time and is omnipresent in all cultures, appealing to all ages and backgrounds. It's the first language you learn. Bitstrips is giving people a genuinely new way to communicate, one that is more visual and relevant than simple text, photos and emoticons. People are using their Bitstrips characters as a new medium of expression – a dynamic digital incarnation that not only looks like them, but acts like them too – and people always love to see their own persona exemplified in unique and creative ways…it's in our nature.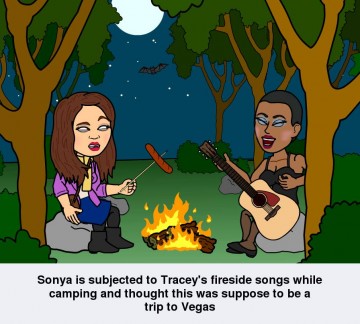 What's in the plans for Bitstrips? What's next??
Right now we're focused on working on the product and creating the best user experience possible. We're expanding our engineering team to build awesome new features, hiring more artists to create new scenes and outfits, and of course increasing the number of servers to help us handle the dramatic growth in users we have been experiencing.
Any fun facts about Bitstrips to share?
In terms of the incredible growth we experienced, within 2 months of launching on mobile we saw over 30 million avatars get created through the app. Also, we currently have more than 2,000 customizable scenes available with new ones being added daily.  We see Bitstrips as a mass-scale creative collaboration that we're engaged in with millions of people all around the world, which is really fun and exciting to think about!
Bitstrips is available for free download on iTunes (iOS 4.3 or later), Google Play, Amazon and Facebook. It's also available in different languages including English, Czech, Dutch, Frency, German, Italian, Japanese, Korean, Polish, Portuguese, Russian, Simplified and Traditional Chinese, Spanish, Swedish, and Turkish.
Thanks to my friends who've allowed me to use their likeness with Bitstrips in this post!