Wow! It's hard to believe that Flashdance turns 30 this year! It seems like yesterday… I mean, I was only 3 at the time when the movie came out *wink* . The style, the hair, the music! So much fun! Remember all the wild and crazy fashions? If you want to talk about street style… that was when it really took off. I may still have my off the shoulder sweatshirt!
This is great retro fun all over again at FLASHDANCE THE MUSICAL, on stage now until June 8th at the Ed Mirvish Theatre in Toronto.
You may remember the film about Alex, the steel factory worker by day and exotic dancer at night. Her dream is to be a professional dancer with hopes of being accepted into the highly regarded Shipley Dance Academy. She has encouragement from her friends but her schooling in dance is on the streets; she's ambitious with her dreams.
It's based on the movie but the musical has it's own legs.  Several story lines are woven into the script but all are based on hopes and dreams and taking risks. Nick, who comes from a privileged family, pursues Alex while coping with business decisions that would either affect his role in the family business; Gloria, a waitress who dreams of making it in music videos, and Jimmy who's helps at his uncle's dance club but really wants to make it big in show business.
The most memorable parts from the film are definitely played out on stage and had everyone excited to see how that translated. Remember the water scene. Yep! They pulled that off! Remember Alex's audition at the dance academy that left us breathless? Wow! I couldn't believe I just saw the moves on stage!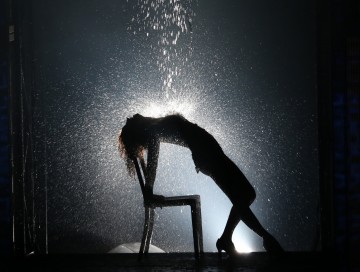 Sydney Morton plays the lead character, Alex, and leaves us breathless… the whole package, she acts, sings and dances. Not an easy role to play for sure! Her character is a little more street savvy than the Alex on screen that I can recall. Kyra Da Costa, who plays KiKi — a dancer and friend of Alex's,  is a really fun character and has some of  the best punch lines in the musical.  Ginna Clair Mason, who plays Gloria, is great in her role as the naive waitress who really comes into her own in the second half of the show. That was a nice surprise for me!
The music is all in the style of retro '80s whether it's tunes from the original soundtrack (She's a Maniac, Manhunt, Gloria, What a Feeling, I Love Rock and Roll) or new ones — in fact there are 16 brand new songs written for the musical. It all brought me back to that era. Totally fun musical and perfect for a girls' night out!
Yes, I almost brought my pink legwarmers.
FLASHDANCE THE MUSICAL is playing at the Ed Mirvish Theatre (Toronto) until June 8th. For tickets and schedule visit www.mirvish.com