The wait is over! There are many happy gamers around the world who stood in lines waiting the other night at the midnight launch of the highly anticipated and much sought after  Xbox One console. I love and enjoy experiencing fandemonium no matter what it's for! So I checked out the street party as fans counted down the hours to the official launch in Toronto. This was definitely a fun time!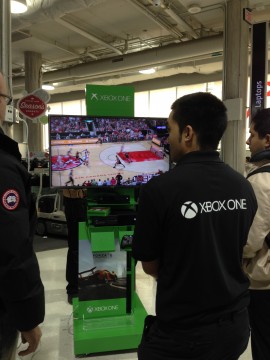 The flagship Future Shop at Yonge Dundas Square held it's launch party complete with red carpet, a DJ (coffee of course) and giveaways to entertain the line up that stretch down the block from the store. Some  die-hard fans were dressed in their favourite game characters from "Call of Duty: Ghosts and Battlefield 4" and zombies from "Dead Rising 3" having a great time dancing away the hours!  When I asked them why they were willing to wait it out, each one said "It's the best, man..the best!" Luckily it wasn't too cold out!
Across the city another Xbox One party was held at 99 Sudbury event space with a tripped out MacLaren parked out front that would have made my kid go bananas if he found out as all he's been talking about is getting his hands on "Forza Motorsport 5" racing game.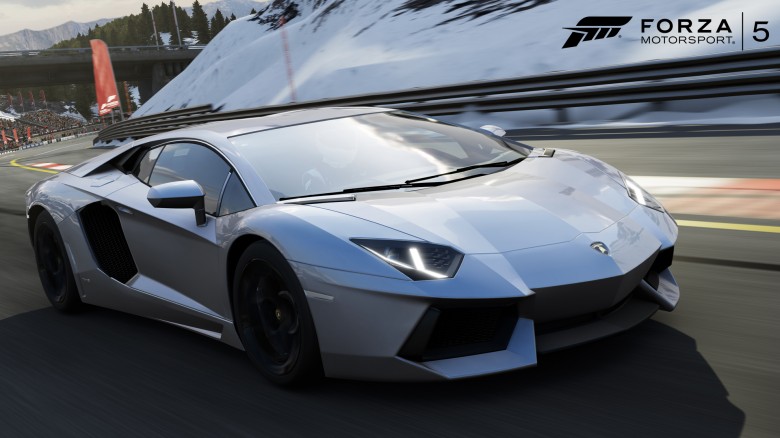 So, why the hype? Aside from raising the bar of gaming to new heights, I wanted to find out what else this baby can do…and it can do A LOT! I met with the Xbox peeps and had learned so much, but instead of overwhelming you I'm giving you my 5 way cool and most favourite things about the Xbox One…
1. All-in-one Entertainment System — Xbox wanted to make this console all-in-one entertainment and offer user friendly and seamlessly move from one . It not only offers amazing graphics and playing ability for gamers but you can also watch live TV, Netflix, listen to music, includes a slot-loading Blu-ray disc player, and access apps specially designed for Xbox One.  Families who Skype can now group chat with up to four participants. Extend experiences with the Xbox SmartGlass and turn smartphones or tablets into second screens that interact with the Xbox One and navigate with touchscreens, pause or rewind a movie, and surf the Web on your TV.
2. Voice Commands — the Xbox One takes direction from your voice commands within a range of 10 feet from the console. Initial settings allows each user to customize sound levels and a list of provided voice commands like "Xbox Go Home" will take you back to your home page or "Xbox, go to Netflix" to instantly access.
3. Personalization – each member of your family can set up their own home page to include shows, apps, games, music etc.  Pins allow you to create your home page with the content that is of interest to you. Xbox One users will also get an enhanced experience with the system tracking each player's preferences,  history of activity and then offer up suggestions that may be appealing to each person.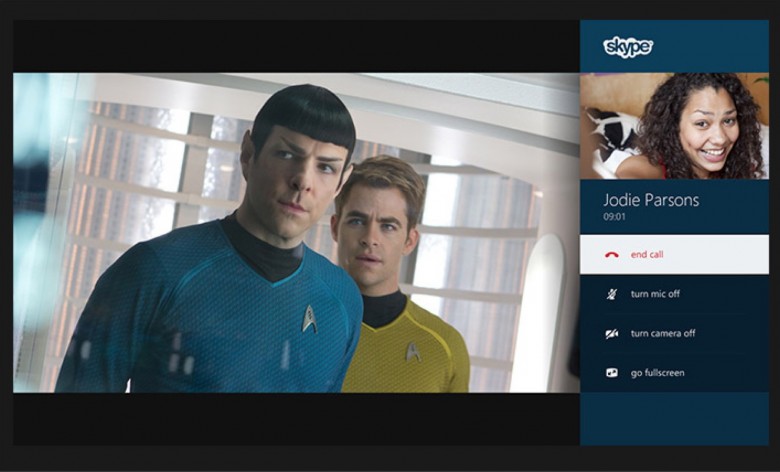 4. SNAP mode allows a player to create a split screen ability. For example, while playing a game you can SNAP into your tunes and listen simultaneously or converse with other gamers. You can be watching a show with your friend and converse while the show is on! That would be pretty funny when the Kardashians or Real Housewives of Vancouver is on! Ha! Users can jump back and forth instantly between screens without missing a beat.
5. Record That! I love this particular feature! If you're playing a game and loving something that is going on, you can use voice command "Xbox, record that" and the console will grab a video clip and save it. Take it one step further and  you have the option of editing the clip, like add music to the background, and share with friends.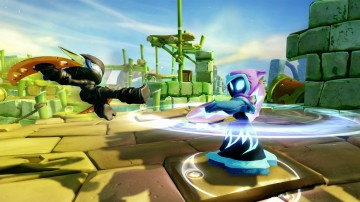 Xbox One has the most award-winning exclusive game titles including "Titanfall," "Forza Motorsport 5, ", "Dead rising 3," "Ryse: Son of Rome" and "Halo" .  If you've got kids you'll be interested in "Skylanders Swap Force," "Kinect Sports Rivals," "Zoo Tycoon" and "Just Dance 2014" that can support up to 6 players.
If you need a great workout "Xbox Fitness" features an extensive library of work out videos from some of the world's most popular fitness names like Jillian Michaels and Tracy Anderson. Grab your favourite workouts and pin it to your home page. With Xbox One through Kinect your workout will capture your heart rate, intensity and form. It will provide you with instant feedback and tips with features like Muscle Mapping and  Energy Meter that tracks your performance level and keep you movitated!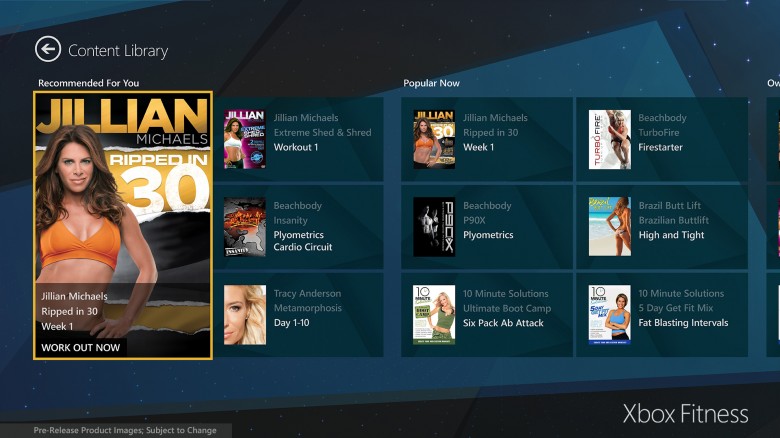 Also, as parents we're concerned about privacy and safety. Parents are able to set privacy controls for their child to have access to age appropriate content and parents will be able to approve friends want to connect and play when using Xbox Live – the online network access to multiplayer gaming experiences, HD movies, shows and social media that is exclusive to Microsoft . There are three levels of privacy: child, teen and adult so it's important to know what your child will have access to.  I've linked you here to the Kinect and Xbox One Privacy FAQ page.
The Xbox One is $499.99 and is available at the Microsoft Store, Future Shop, Best Buy and other retailers.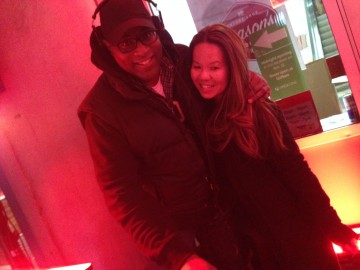 Let the games begin!
Taking in the fandemonium at the Xbox One Future Shop event at Yonge Dundas Square in Toronto. Of course, I hung out with the DJ !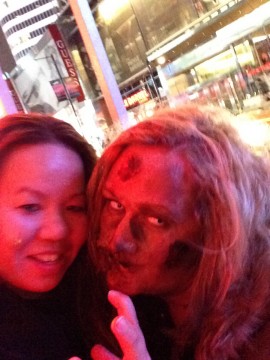 Dancing with zombies…if you can't beat 'em, join 'em!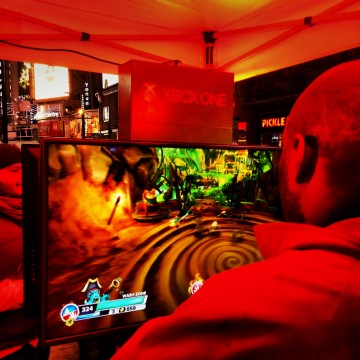 Loved that this guy was playing Skylanders Swap Force!!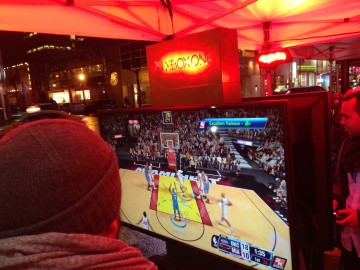 Seriously incredible sports games…the kid even noticed that there's a guy that comes out and mops the sweat off the floors on this one!