The holidays are fast approaching! How many more sleeps? Bah, I don't really want to count but as the days here in the city start to get chillier and chillier I'm looking for quick escapes even if it's just for a few hours. It's no secret that I like to visit art galleries and museums. They make for a great retreat to fuel your creative mind and energy even for just a couple of hours. Never time wasted in my mind!
The Gardiner Museum is located in the sparkling Yorkville area conveniently across from the Royal Ontario Museum. The focus of this museum is on ceramics covering the most notable international artists of the medium. The permanent collection is comprises of several incredible collections making the Gardiner Museum one of the most well-rounded ceramic collections in in North America. It includes pottery form the Ancient Americas, rare objects of Meissen, Du Paquier and Chelsea porcelain, Chinese blue and white porcelain, Japanese porcelain and contemporary ceramics.
Currently there at three important reasons for you to visit now!
This annual display of festive trees is featured throughout the Gardiner Museum. One of a kind Christmas trees are works of art created by notable Canadian designers and visionaries including Kimberley Newport-Mimram, CBC's Steven and Chris, Cobi Ladner, Robert Tanz, design teams from Holt Renfrew, Julia West Design, Teatro Verde and others. Take a stroll through the museum and see the amazing neighbourhood themed trees including Chinatown, Distillery District, Forest Hill, Leslieville, and Yorkville. The signature event celebrates the holidays with an urban festive feel. The trees are displayed at the Gardiner Museum starting November 12th until December 14th, 2014. After the exhibition is over, the trees will be donated to various charities and other locations in the city to help spread holiday cheer.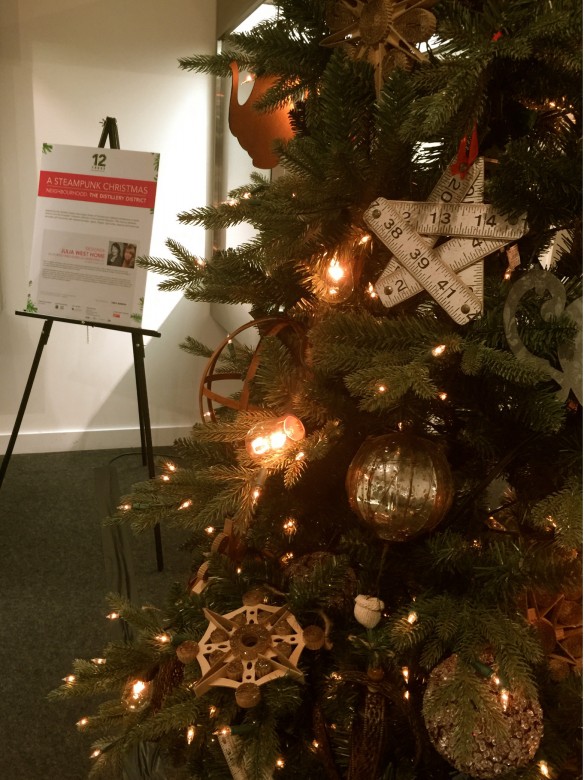 Clare Twomey's Piece by Piece Art Installation
Piece by Piece is an exhibit by the acclaimed British ceramic artist, Clare Twomey. Situated on the top floor of the museum, visitors are invited to enter the vast room filled with over 2,000 white porcelain figurines — based on three objects from the Gardiner's Commedia dell'Arte Collection which demonstrate the conflicting emotions of everyday life. It's hauntingly beautiful and quite serene. Twomey is often known for her large-scale installations and site-specific works. At the Gardiner Museum, you may even find a resident maker chiselling away in the back of the exhibit as he or she continues to add figurines to Twomey's  growing ghostly world.  This is Twomey's first exhibition in Canada. It's was a beautiful escape from my fast-paced life on my recent visit. The exhibition is open until January 4, 2015. FYI… on the final day of the exhibit, the Gardiner Museum is staging a public intervention on this exhibit. Fans of Twomey's work are invited to register now to take a piece of the exhibit home for your own collection. Visit the site for more details.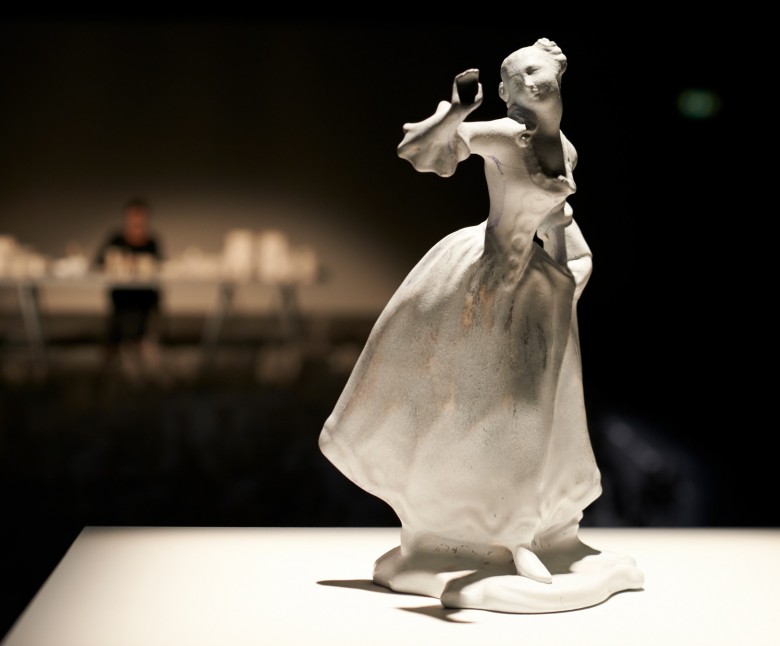 Did I mention that the Gardiner Museum also welcomes families? Both my kids have been several times for their clay making workshops and families can now enjoy Family Sunday activities that are free with admission. Activities take place in the lobby and run from 11 am to 4 pm. Some activities include meeting resident potters, painting tiles, making your own clay creations and hanging out with museum mascots! There are also fee based workshops available for slightly older kids and adults. On Sunday, November 23rd, you can create your own candle holder at the Holiday Clay Workshop and learn a variety of pottery and glazing techniques.
The Gardiner Museum is located at 111 Queen's Park, Toronto. For more information, schedule of events and admission prices, visit gardinermuseum.ca