Happy Birthday to the Royal Ontario Museum! It's not just any birthday but the ROM is celebrating it's 100th birthday and it's looking fabulous! This is going to be a spectacular year of non-stop special events and exhibits and it's already beckoned me a few times!
The other day I was asked what was my fondest memory of the ROM. I have so many! Most recently I had slept over at the museum with my youngest son and his friend. It was pure magic visiting at night time when the museum shut its doors to the public and the kids had run of the house. The kids and I agreed that it was very special and a memory made. In fact, little guy asked when we can go back! I've also enjoyed lectures and have taken a few years of art classes at the ROM that had re-energized my love for art several times over.
The ROM's official birthday was on March 19th. 100 years ago the doors open to the public. "For one hundred years the ROM has connected visitors to their world and each other," said Janet Carding, Director and CEO of the ROM. "Inspiring curiosity, sharing discoveries, leading ground-breaking research and connecting communities has always been our goal. And it's as true today as it was when we opened in 1914. What's exciting is that alongside our galleries we now share research and collections with mobile technology, digital animation, interactivity and more."
Here are 10 cool ways to celebrate the ROM's 100th Birthday!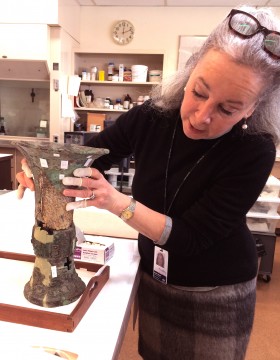 1. ROM REVEAL WEEKEND: May 2 to 4. This rare opportunity and definitely something you won't want to miss! It's a once-in-a-lifetime chance to go behind the scenes at the museum. Meet the curators and see rare new objects not yet on display. Find out what the researchers are doing and join in the exclusive tours.
2. PARTIES! Lots of them! Friday Night Live starts back again in May. Each party has a theme and a great time to explore the museum in a different light. Socialize amongst the dinosaurs and nosh on fabulous food offerings from the city's best chefs. The evening includes DJs and live performances as well as access to the galleries. Cash bar available. This event is for ages 19+. Definitely one of my favourite spots on a friday night in the city!
3. ROM RE-COLLECTS: Share your fondest memories and stories of the ROM on their special dedication site www.rom.on.ca/recollects. Send in your photos and share your  experiences. Tell them your about your favourite objects and exhibits to help make a record of 100 years.
4. ROM OUTDOOR GALLERY: Experience the ROM inside and out. A new outdoor space will be provide visitors the opportunity to discover and explore before then walk through the doors. The area will be enhanced with gardens and performance space ready this summer.
5. ROM 100 FEATURE EXHIBITIONS: Includes the current running special exhibition, The Forbidden City: Inside the Court of China's Emperors, Around 1914: Design in a New Age (opens March 29), Paul Kane (April), Michael Awad: The Entire City Project (May), Fashion Follows Form with Izzy Camilleri (June 21), Cairo Under Wraps (June 21), Passenger Pigeons (August), and more!
6. COMMEMORATIVE STAMP & COIN:  Canada post is issuing two postage stamps commemorating the ROM's centennial year. The Royal Canadian Mint will feature a special $20 coin made of 99.9% fine silver designed as a collectable. Available at the Museum Store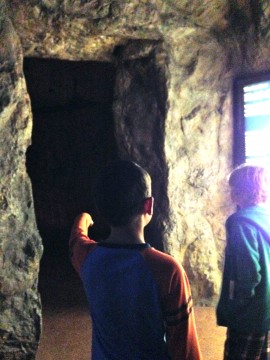 7. KIDS PARTIES & SLEEPOVERS: More fun for the little ones will include several ice cream and cake parties and the very popular sleepovers are back each month. You'll want to do this…trust me! The kids will love it. I've written about our recent sleepover experience on this site. Heading into the Bat Cave in your pajamas with not too many people around is quite a thrilling experience!
8. TVO DOC SERIES "MUSEUM DIARIES": If you've ever wondered what happens behind the scenes with ROM researchers, curators, and other ROM experts you'll definitely want to catch this series on Tuesday nights. Each episode explores
9. LOVE THE ROM: Centennial fundraising campaign offers special recognition during the centennial year. Donors who give $1000 or more will be invited to share their personal ROM stories or wishes to love ones in the future, in a commemorative memory book that will become a permanent part of the ROM collections.
10. EVERY OBJECT HAS A STORY: The ROM has published a collection of iconic Canadians writing on their favourite objects from the museum's collections. Read about the rare meteorite that captivated astronaut, Chris Hadfield and how Deepa Mehta's childhood memories of how the Shiva Nataraja's dance of bliss inspired her to learn the twist! Many interesting and personal stories makes for a great keepsake in this book. Launches April 8th.
There are many, many more ways to celebrate with the ROM this year. If you live in the city, get a membership to enjoy a year's worth of fun and discovery. We sometimes go as a family and often I go on my own as a little escape to just wander aimlessly and to recharge. Other times I take in the special exhibitions. The Forbidden City exhibit had just recently opened and I've already been twice. I'll plan to go at least once more in the summer when the curators rotate some of the objects on display.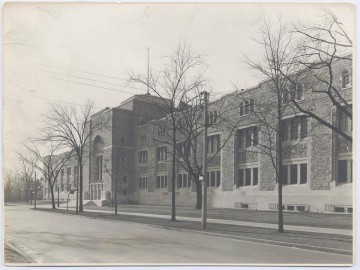 Happy Birthday ROM! We love you!
What is your fondest memory of the ROM? Or your favourite object/exhibit? I'd love to know!
Here's a photo of the Royal Ontario Museum from the 1930s!
Photo courtesy of the ROM. 
[youtube id="xPSlM1jkV8w"]