When I was a teenager I dreamt of working in the fashion world. I was encouraged by my high school teachers to make a go of it but I was lacking in confidence. Today, I can look back and see the opportunities I had missed. I saw the beautiful and creative side of the fashion world but I had also seen the other side that was all about business and the bottom line. The yin and yang of the business was not easy for someone who was starting out. I did find balance in the fashion & beauty magazine world and that was one of the most amazing jobs I've had because the President of the company trusted me and gave me the confidence to speak my mind. "I've hired you to tell me what you think," he said to me. I'll never forget that.
After the Ball is a movie that takes a "fairy tale" approach to fashion and brings it  right back to that defining moment in my career. If you've got a tween/teen who needs a little confidence boost, this is fun film to see—a perfect mom and daughter date night movie! It's a modern day story set in the world of fashion. Kate  Kassell is fresh out of design school with dreams of working in a couture house. However, she can't seem to get a job at a reputable fashion house because of her "pedigree" and accepts that she needs to pay her dues to hopefully get to her dream career.
The only job open to her is to work at her estranged father's knock-off designer clothing company that rips off runway looks from the high-end fashion houses that she so strongly wants to work for. Kate accepts the opportunity to cut her teeth by working for her dad—but it also comes with the challenge of also working for her step-mother and  two shallow, conniving step-sisters. What Kate goes through not only exposes the underbelly of the company but also brings back the excitement to her dad's company.  The story is a Cinderella meets Devil Wears Prada mash up.
The movie stars newcomer Portia Doubleday as Kate (who reminds me of a slightly younger version of Amanda Seyfreid) along side Lauren Holly as the step-mother, Elise, and Chris Noth as Kate's father. You'll even find Canadian screen star Colin Mochrie in this film!
While it's a funny story line there is definitely clear messaging here about believing in yourself and having the confidence to do the right thing no matter what challenges you face.
After the Ball opens in Cineplex theatres across Canada on February 27th.
Here's the trailer…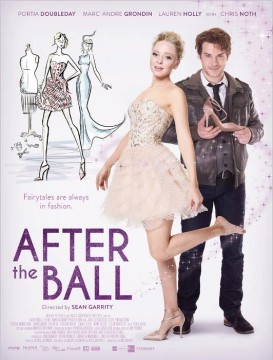 CONTEST IS NOW CLOSED
Enter for a chance to win one double-pass to see After The Ball. To enter, simply complete the form below. Winners will be selected at random.
Contest closes: March 3rd, 2015.
Winners will be contacted directly via email. Passes are good for any Cineplex theatre where the movie is playing during the run of engagement (Vancouver, Calgary, Edmonton, Winnipeg, Regina, Ottawa, Toronto, Halifax)
Please read the Rules and Regulations before entering.