CONTEST IS NOW CLOSED
This is the fashion event of the season and we can't wait! Not only will the runway feature the next generation of Canadian fashion designers but this extraordinary annual event that raises awareness and funds for the Canadian Breast Cancer Foundation.
Themed Future Forward: Designing a Future without Breast Cancer, the 2014 White Cashmere Collection invites 15 fashion innovative designers to create a one-of-a-kind couture collection (yes, made of luxurious Cashmere bathroom tissue) inspired by the women affected by breast cancer. The by-invitation only event will be held in Toronto on September 30th.
This year's roster of designers were personally selected by the collection's past contributors. Designer  include…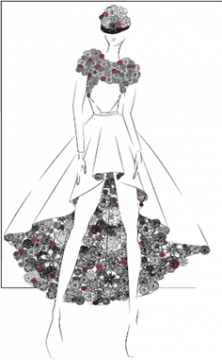 Hilary MacMillan, nominated by Lucian Matis
Sarah Nicol, nominated by Izzy Camilleri
Evan Clayton, nominated by David Jack
Lise Godel,nominated by Christopher Paunil
Franciscka Veress, nominated by Rita Tesolin
Martin LIm, nominated by Philippe Dubuc
Alejandro Mendoza, nominated by Nadya Toto
Alan Ta, nominated by Suhaila Niazi
Duc C Nguyen, nominated by Joseph Helmer
Elyse Densinor, nominated by Luko Marion
Ken Chow, nominated by Sunny Fong
Pedram Karimi, nominated by Marie Saint Pierre
Myles Sexton, nominated by Caitlin Power
Sarah Stevenson, nominated by Farley Chatto.
Canada's best-selling brand Kruger Products, maker of Cashmere Bathroom Tissue, is a proud supporter of the Canadian  Breast Cancer Foundation. Twenty-five cents from the sale of every limited-edition Pink  Embossed Cashmere package goes directly to the Foundation throughout the month of  October, breast cancer awareness month.
CONTEST GIVEAWAY!
Enter for a chance to win a CASHMERE BATHROOM TISSUE LUXURY PRIZE PACK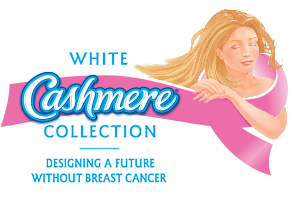 In honour of breast cancer awareness month, we're offering one lucky reader the chance to win  a pure, soft and luxurious gift pack including:
2 tickets to the White Cashmere Event in Toronto* on Sept. 30th
A soft and sophisticated white cashmere knitted scarf
A gorgeous white cashmere skinny accessorizing scarf
Elegant white cashmere knitted gloves
$100 towards your yearly supply of Cashmere Bathroom Tissue
*Transportation not included
Prize valued at: $500
Contest closes: September 25th, 2014.
Please read the rules and regulations before applying