We can hear you ROAR ladies so here's your chance to enter the contest and join our very own Nancy at the Fierce Fall Fitness Retreat at Horseshoe Resort in Ontario!*
Are you ready to for the most amazing health weekend ever – inside & out? It's time to step out of your comfort zone, challenge your body, feed your mind and uncover your fierceness!
Hosted by Co- Founders/ Head Chicks and Host of the TV Series "Shape Up with FIT CHICKS" on Rogers TV, Laura Jackson & Amanda Quinn, the 2013 "Fierce Fall Fitness" FIT CHICKS Retreat is an action packed girls weekend focusing on all things FIT CHICK including health, fitness, yoga, nutrition, wellness, adventure and FUN…all while celebrating your fabulousness!
This very popular retreat is perfect for a girlfriends' getaway weekend (or mom and daughter, sisters). The prize includes…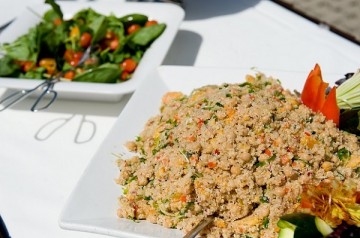 Fierce Fall Fitness Retreat Prize is for two and includes accommodation (one room/two beds), meals and participation in the Fit Chicks retreat the weekend of November 8-10, 2013. Details of the weekend retreat can be found at www.fitchicks.ca
The prize is valued at $738 pre-tax.
TO ENTER :  Tell us who you would bring to the retreat if you won and why? 
Leave your answer in the comment section below and remember to tell your friends to enter too!
Contest closes on Monday, October 28th at noon. 
*Prize does not include travel to & from resort, additional activities, spa or excursions, gratuities, personal expenses, incidentals, alcohol that is not included as part of the retreat.
Link here for Rules & Regulations.