CONTEST IS NOW CLOSED. THANK YOU FOR ENTERING!
Here comes the bride! The 12th annual White Cashmere Collection – Canada's first and only fashion collection entirely crafted in pure, soft and luxurious Cashmere Bathroom Tissue (BT) – will celebrate love and romance this year, as 16 of Canada's top bridal fashion designers present their vision of a future without breast cancer.
A spectacular runway show is to raise awareness and funds for the Canadian Breast Cancer Foundation and hosts some of Canada's hottest names in fashion as well as emerging talents. The 12th annual White Cashmere Collection has partnered with wedding style expert, Jessica Mulroney, public relations and marketing specialist for Kleinfeld Bridal at Hudson's Bay (and yes, Ben Mulroney's wife), to curate the world's first collection of one-of-a-kind, designer-made wedding couture, fashioned from luxuriously, soft sheets of Cashmere BT. Yes, you heard me right. All of the runway creations are created with bathroom tissue!
"The white wedding gown has become one of the world's most enduring symbols of love and new beginnings," says White Cashmere Collection curator, Jessica Mulroney who spots the hottest fashion trends for Kleinfeld Bridal at Hudson's Bay.  "I'm honoured and thrilled to collaborate with Canada's most talented and famed bridal designers, and Cashmere, to help raise much needed funds and awareness to support women and their families affected by breast cancer."
We had a sneak peek earlier this summer as the one-of-kind couture gowns were being photographed on location at the TIFF Bell Lightbox and what we saw was truly spectacular!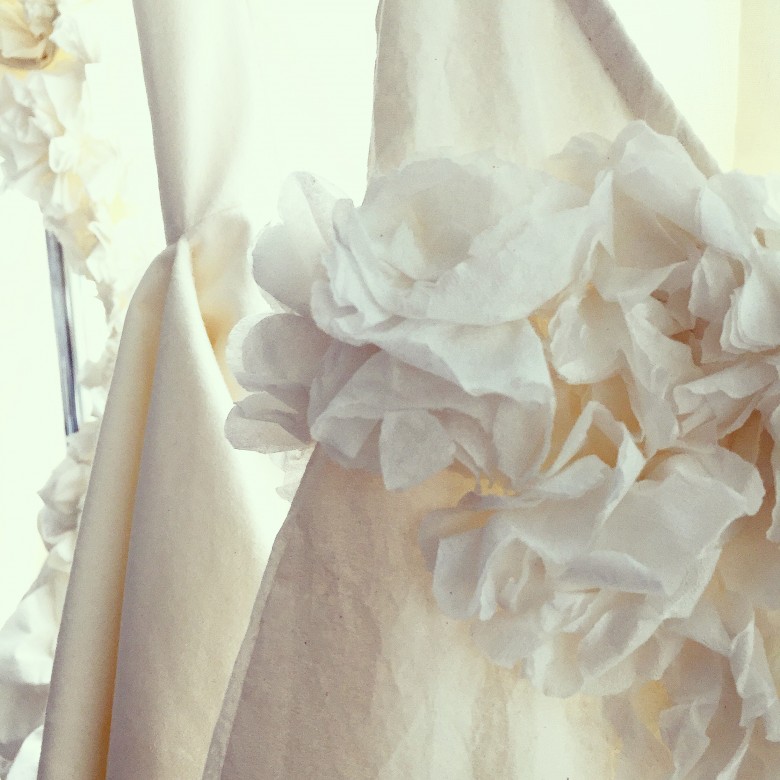 This year's bridal collection of gorgeous bathroom tissue couture gowns and accessories will take a walk down the runway 'aisle,' for the very first time, at an exclusive invitation-only fashion show produced by collection Artistic Director, Farley Chatto , at The Carlu, in Toronto on Tuesday, September 29, 2015. We'll be there so watch our social media feeds on Facebook, Twitter and Instagram for our runway report!
The White Cashmere Collection, which debuted in 2004, has featured more than 135 top Canadian designers to-date. The annual fashion show heralds the seasonal return of limited-edition Cashmere in support of the Canadian Breast Cancer Foundation, with twenty-five cents from the sale of every package going directly to The Foundation, throughout October Breast Cancer Awareness Month.
Designers for this year's show includes Valencienne, Paloma Blanca, Frascara, Catherine Langlois, Melissa Gentile, VAWK, Anastasia Lomonova, &ForLove, Just Ta Designs, Lisa Abi Chedid, Hoax Couture, Christopher Paunil, Sofia Sokoloff, Le-Ann Belter, Rita Tesolin and David Dunkley.
CONTEST:
Join Cashmere Bathroom Tissue and UrbanMoms to help design a future without breast cancer! In honour of October Breast Cancer Awareness Month, we're offering one lucky reader a chance to win a soft and luxurious gift pack including:
A soft and sophisticated cashmere knitted hat
A gorgeous and warm cashmere knitted scarf
Elegant cashmere knitted gloves
$100 towards your supply of Cashmere Bathroom Tissue, Canada's best-selling brand
Please read the Rules and Regulations before entering. Prize valued at $300. Contest closes September 29th 2015.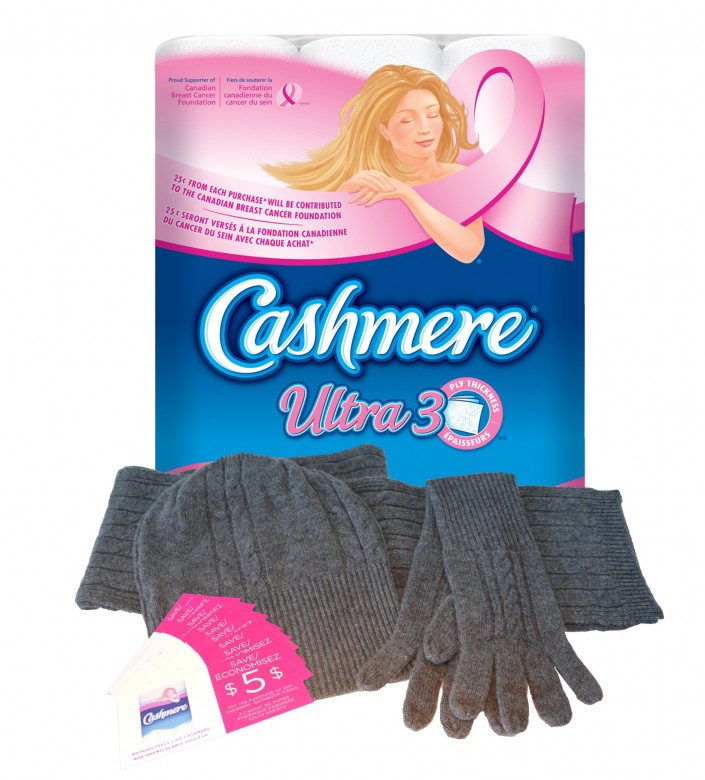 Find out more at Cashmere.ca and join the Cashmere Facebook Fan Page at Facebook.com/Cashmere, #Cashmere15.