You may recall the beautiful ads on the pages of fashion magazines and on television with models strutting their designer couture wear all made out of Cashmere Bathrooom Tissue? It's hard to believe that this highly successful campaign is celebrating it's 10th year!
The White Cashmere Collection will be celebrating in the most glamourous event to date. On September 25, twenty Canadian designers will reveal their masterpieces at this annual ruwway event in support of the Canadian Breast Cancer Foundation. Each design is entirely crafted in pure, soft and luxurious Cashmere Bathroom Tissue and curated by fashion designer Farley Chatto. Designers include Lucian Matis, David Dixon, VAWK by Sunny Fong, Paul Hardy, DUY by Duy Nguyen, Comrags by Joyce Gunhouse and Judy Cornish, Marie Saint Pierre, Rita Tesolin, and more.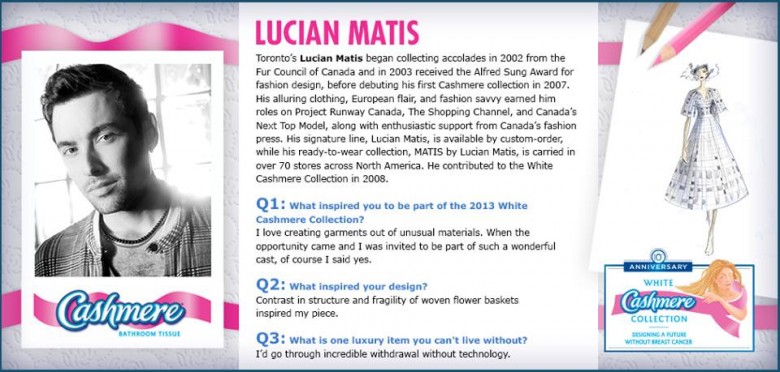 The Pink and White Gala event hosted by Beverly Thomson, Breast Cancer Survivor, will debut at the Art Gallery of Ontario with a spectacular show attended by an exclusive, invitation-only audience. I'll be there and I'd love for you, and a guest, to join me at the runway show!
Join Cashmere Bathroom Tissue and UrbanMoms in designing a future without breast cancer! In honour of the White Cashmere Collection's 10th anniversary, we're offering one lucky reader the chance to win a pure, soft and luxurious gift pack including:
A soft and sophisticated grey cashmere knitted scarf
Elegant white cashmere knitted gloves.
$100 towards your yearly supply of Cashmere Bathroom Tissue, Canada's best-selling brand.
Two tickets to the 10th anniversary White Cashmere Collection runway show at the AGO in Toronto on September 25th.
Prize valued at $400 Cdn.
Kruger Products, maker of Cashmere Bathroom Tissue, is a proud supporter of the Canadian Breast Cancer Foundation. Twenty-five cents from the sale of every limited-edition Pink Cashmere package goes directly to the Foundation throughout the month of October, breast cancer awareness month, following the annual White Cashmere Collection.
The White Cashmere Collection is now celebrating its 10th fashionable year. Find out more at Cashmere.ca and join the Cashmere Facebook Fan Page at Facebook.com/Cashmere.
TO ENTER…simply follow us on Twitter @urbanmomsca
And tweet this out "I'd love to attend the Cashmere Pink and White Gala with @urbanmomsca in support of the Canadian Breast Cancer Foundation #Cashmere10"
Contest is open until Monday, September 16th at noon. One entrant will be selected at random from all eligible entries. Winner will be notified directly.
*This contest does not include transportation to and from the event in Toronto. Winner must be able to attend the gala event on Wednesday, September 25th (11 am at the Art Gallery of Ontario). Prize must be accepted as awarded and is non-transferrable.