Late in December of 2014, Samsung Canada launched the 'Look At Me' project with Autism Speaks Canada. The project involved an app that was designed to assist as a learning tool for autistic children to help with communication as well as emotional expression recognition.
Many children with autism struggle to make eye contact, making it challenging for them to socially and emotionally connect with  others. The app was developed by Samsung along with a multidisciplinary team of clinical psychologists, cognitive psychologists and psychiatrists, the Look at Me app can help children with autism improve their ability to make eye contact and interpret facial expressions through an engaging, interactive and fun experience. We had written about the launch of the project earlier this year.
"It's been an incredibly insightful learning journey for us and our partners, and the many families who are living with autism," says Mark Childs, CMO of Samsung Canada. "I hope that we can inspire everyone to understand that technology does have a role as a tool to help families, and particularly their children living with autism."
Esther Rhee, National Program Director for Autism Speaks Canada explained how the common method of communication is carrying around a binder with pictures that children with autism could use—but it took time for them to flip through the pages. With the use of the app, not only is it faster for children to show their feelings but it also gives them a sense of belonging and encourages better self esteem. Having access to a tablet or smartphone also makes them feel current with other kids and opens a new way to engage with others.
The interactive camera app takes the user through a series of games to earn the user points. Each day there are a few challenges to accomplish. Instructions are provided before each challenge (or you can also turn off instructions). Several challenges involves using the camera feature on the smart device to take photos and lining up the outlines to your face. Even kids without autism seem to enjoy the challenges and collecting points has mass appeal (even for me!)
I had a chance to meet with Fi Ferraro, mom of 3 children who all were diagnosed with autism. Her family has been using the app since January. "A lot of apps out there are individual based, but the 'Look At Me' app has pushed my kids to engage and make eye contact," said Ferraro. "The kids just want to be accepted. They don't want to be alone. We're hopeful for what tomorrow brings."
There were quite a few emotional moments at this event and listening to the families involved was something I'll never forget. Here's a quick video about one Calgary-based family. Mom Cynthia has just experienced the sound of her daughter Cailin (17 years old), truly laughing for the first time in her life.
The Samsung Look at Me app is available (free) at Google Play Store. See site for list of compatible devices.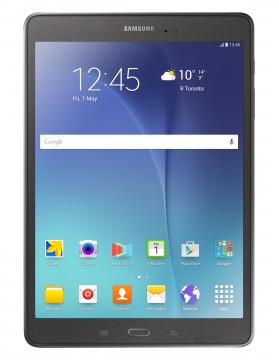 CONTEST IS NOW CLOSED, THANK YOU FOR ENTERING: Samsung Canada would like to give one lucky family a new 8″  Samsung  GALAXY Tab A (Retail value $279.00 Canadian) – a great multi-tasking tool for families. Easily open two apps side by side you can manage two screens at once. The Tab A also offers Kids Mode giving parents peace of mind while providing an engaging place for kids to play. Parents can manage kids access and even how long they spend using it,while keeping other family work private. The GALAXY Tab A is the ultimate family solution. Affordable and accessible as families can create up to six profiles on a single device so everyone can enjoy their own personalized experience. The awesome 4:3 screen ration means content fills the screen and appears larger making emails, browsing look even better. It's also offers access to Microsoft Office for Android (including Word, Excel, PowerPoint and Outlook) to you can keep productive at home or on the go.
Please read the Rules and Regulations before entering. Contest closes June 2nd at 12:00pm