When it comes to traveling with kids, we'd like to think we've got it all figured out. We've got packing down to a science, well, except for me… I always over pack shoes. Like our recent trip to San Francisco I had packed three pairs of heels only to live in flats the entire time. Yep.
But like most of you, I think I've nailed it. Snacks for the plane? Check. An extra change of clothes and bathing suits for the kids? Check. Toys and stuff to keep entertained on the plane? Check! Check!
But it wasn't always smooth sailing and I've learned the hard way. Getting to and from a vacation destination is just part of the "journey" and it definitely can be an adventure! If you've ever had a flight delayed, you know what I'm talking about. Or even worse, being trapped on the plane and sitting on the runway for a long time waiting for clearance can be a serious test of patience! Not fun especially with kids. I remember breaking a sweat once when my little one's "fun" device's battery indicator kept flashing as I overheard the Captain saying "we're just going to sit here for a while." Well, that turned into an hour on the tarmac. The batteries pretty much zapped while we waited for take off and we still had another 3 hours to get to our destination. That was pretty much one of the worse times the batteries ran out for us. We were exhausted before the trip had even started. But we had learned our lesson and the kids have the responsibility now to make sure we've got all batteries covered.
I've noticed that so much has changed since that time and now that we're more aware of better and newer innovations in battery life – we're also interested in how batteries can be better for the environment.  The latest comes with the Energizer® EcoAdvanced™ — It's Energizer's longest lasting alkaline battery.
Since the batteries are conveniently available at my local Loblaws it's easy enough to grab them at the check out counter.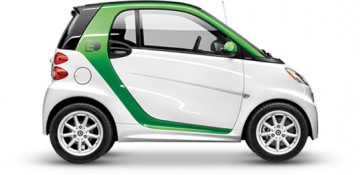 From now until March 16, 2015, there's a chance to win  Energizer® EcoAdvanced™ prizes! Enter the product UPC code at energizerwinsmart.com from participating stores including Loblaws, Maxi, Maxi & Cie, Atlantic Superstore, Real Canadian Superstore, Zehrs and Dominion.
You could win a smart fortwo car ($26,000 value!) OR one of 10 secondary prizes of $100 President's Choice Gift Cards!
Contest closes March 16, 2015.
AND WE HAVE A CONTEST TOO!
Enter for a chance to win an awesome Prize Pack that includes the new Energizer® EcoAdvanced™, an Energizer®  flashlight and a $25 Loblaw's gift card.
To enter our contest, complete the form below….
Contest closes: March 16, 2015.
Please read Rules and Regulations before entering.