when I was in San Francisco in July for Blogher, i heard a rumor that Abby Cadabby was making an appearance at the hotel. My heart, she swelled. For even though my daughter Isabella is likely the only child on the planet who isn't Elmo-obsessed, she lives and breathes Miss Abby Cadabby (who comes second ONLY to DJ Lance Rock on Yo Gabba Gabba)
Somehow, with all the hustle and bustle, with the much ado happening, I missed her. i weep.
(Casey did get to meet her, though. *jealous*)
but lo! Abby Cadabby is coming to Toronto! I am getting a second chance to make a first impression! and this time i'm bringing her biggest fan with me, Isabella, who watches Abby Cadabby on every.single. episode. of Sesame Street, which currently airs in Canada on Saturdays at 9:00am ET.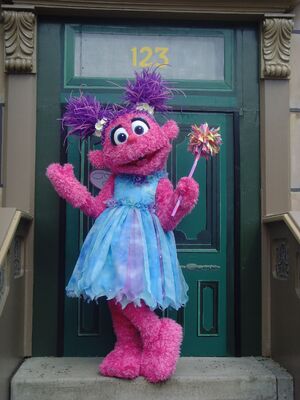 and because the folks at Alliance Films love me (and when i say 'me' i mean 'you') they are giving me four more pairs of tickets to see 3-year-old Abby as she walks "in the fur" down the pink carpet at the Sheppard Grande on Saturday, October 4th, 2008 at 9:30am and to see a screening of her new DVD, Abby in Wonderland, on the big screen.
Sesame Street has been around for ages. We all watched it. We all grew up watching Ernie and Bert and Cookie Monster and Grover and Kermit the Frog and Big Bird and Telly and Prairie Dawn. and Gordon and Maria and Luis and Bob and Susan.
and Mr. Hooper. He was my favorite. *le sigh*
These monsters and people were such a huge part of my childhood. They taught me to spell, and read, and rhyme. they taught me that even giant yellow birds sometimes snore. and they taught me that it's okay to love cookies.
mmm…C is for cookie that's good enough for me. C is for cookie. cookie cookie cookie starts with C.
we all watched. and now a brand new generation of Sesame Streeters are watching. and a brand new generation of Canadian children are watching. "We are proud to introduce Abby Cadabby and all of her friends at Sesame Street to a new generation of Canadians," says Hunter Heller, Assistant Vice President International Licensing, Sesame Workshop. "Sesame Street has had a long history of sharing laughter and learning with Canadian children, and we are thrilled to introduce new and engaging content into this incredibly important market."
so, now get to work! i want to hear your most favorite Sesame Street memory! leave one in the comments or email me and i will pick 4 winners for this awesome contest. AND if you don't win here, Alliance Films is giving you ANOTHER chance to win tickets. Just click the link right here and enter to win. well, what are you waiting for??? sunny days are sweeping the clouds away!