Mommy-porn star, that is.
Seriously. What else would you call a tall, strapping, blue-eyed, blond man who loves being a dad, loves cooking, has the most awesome British accent, and a house in the English countryside?
Everything in his new book, Save With Jamie, looks delicious. It's not your usual low fat, low cost meals. It's Dim Sum Pork Buns. And Chicken Wings Gangnam Style. And Giant Veg Rosti with poached eggs, spinach, and peas. Which I made tonight. Which was a-mazing.
Check out JamieOliver.Com for tons of great recipes, info on his initiatives to get our kids eating better, and of course info on his awesome new book.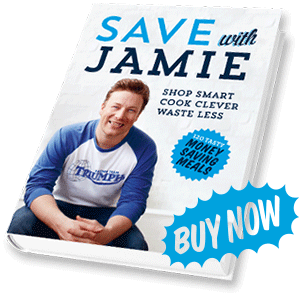 Like the rest of us, Jamie struggles with pickiness among his kids, such as convincing  his 11-year-old daughter to eat her salad. But besides that, he's gotten his kids to eat -and like- pretty much everything. How? By showing passion for food. By growing his own food so his kids feel connected to it. And by giving them a voice in making healthy choices.
What are your tips for getting you kids to eat (and like) good food?
Let me know what it is and you can win your own brand-spankin' new copy of Save With Jamie, courtesy of Chatelaine Magazine.
Contest closes on October 20th.