CONTEST IS NOW CLOSED
How exciting is it for kids (okay, and adults) to be superheroes? Yes, boys AND girls. In the latest game release from Disney Interactive players can immerse themselves into the Marvel universe with familiar characters and exciting adventures. When we had received the new Disney Infinity Marvel Super Heroes (2.0 Edition) starter pack and it was a perfect weekend of no homework and chilly weather. Enough to put our socks on and curl up for some fun. No sooner than we got our pumpkin spice lattes in our mugs, the word had got out that we had this latest game and the friends started showing up at the door. But it was fine with us as we knew this game could not just be enjoyed solo but it could also accommodate multiple players.
I had no idea, however, just how much fun two 10 year olds could have with a game. So, it was great for me to see them both working together on challenges and playing simultaneously…none of this wait your turn stuff. Again, my mind is in awe with technology while at the same time, it caters to parental desires of creative play, problem solving, interaction and cooperation.
Last year, Disney unveiled Disney Infinity one of their most ambitious game releases to date propelling players into the various Disney movie settings and it was a huge hit during the holiday season. Players could play their favourite characters and already understood their strengths and weaknesses. Play Sets were offered by movie themes like Monsters Inc. where players could go on missions and challenges. A "Toy Box" feature allowed for free play where kids could build their own virtual worlds complete with all sorts fun enhancements to create their own adventures.
"I got a stunt buggy but it drives of the cliff — I need to make a race track!"
The latest Disney Infinity: Marvel Super Heroes (2.0 Edition)  uses interactive Marvel figures in new interactive storylines in familiar settings. Players can take on the roles of more than 20 Marvel characters including Captain America, Iron Man, Black Widow, Thor, Hulk and Hawkeye to battle enemies, complete challenges, solve puzzles and save the world. What seems to be different now is the ability to customize the superheroes' skills which is a great way to appeal to different levels of play.
The new starter pack comes with pyramid shaped discs as well as a new set of Power Discs that offer additional customization of play. You can also collect and trade over 130 power discs. For example, through Marvel Skies and Textures, the player can change the Toy Box with Spider-Man themed streets and buildings. Choose "Forgotten Skies" and unlock it in the Toy Box for  a dinosaur world lover's dream come true – you can even change your landscapes with prehistoric landscapes and terrain. The Play Set pieces that come with the Starter Pack are used on the portal but can easily be playable action figures or even for displaying. Available Play Sets include Spider-Man and Guardians of the Galaxy.
"Whoa! How did I just do that?"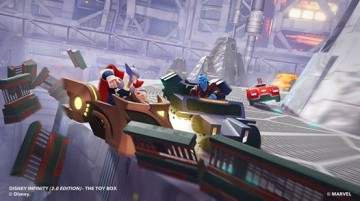 The very popular Toy Box mode is back with enhanced features taking the creative play to the next level. Players can customize their worlds and use any Marvel characters available in the game. The boys spent lots of time on the weekend in both the storyline playset mode and in Toy Box mode discovering the many props and Marvel gadgets by using the new "Creator Tool" to quickly build their own adventure and story. They seem to amaze themselves with the endless possibilities with this game.
And what's little guy's favourite character? THOR!!
I'm pretty sure that this will be a massive hit for the holiday season.
The Disney Infinity: Marvel Super Heroes (2.0 Edition) video game Starter Pack includes:
1 Disney Infinity: Marvel Super Heroes (2.0 Edition) Video Game
3 Marvel Super Heroes Figures: Iron Man, Thor and Black Widow
1 Disney Infinity Base (2.0 Edition)
2 Toy Box Game Discs
1 Marvel's The Avengers Play Set piece
1 Web Code Card
The set ($74.99) is available for PlayStation 4, PlayStation 3, Xbox One, Xbox 360, Wii U, PC, iOS.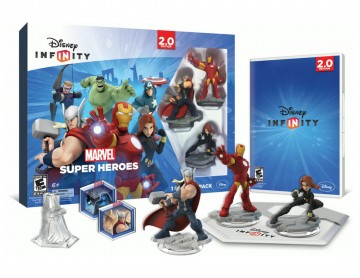 CONTEST GIVEAWAY!
Disney Infinity wants to give one of our very lucky readers a Marvel Super Heroes (2.0 Edition) Starter Pack! (Winner selects appropriate version.). Prize valued at $74.99 Canadian.
Please read the Rules and Regulations before entering. Contest closes: October 31, 2014.